ViPad is a free software for Windows 10/8/7 that acts as an app launcher and helps you organize your desktop. If you have a cluttered desktop, then this freeware will help you get a clutter-free desktop environment. Let us take a look at its features in this post.
ViPad desktop app launcher
Searching for an oft-used software via the Start Menu can take time if you have several apps installed. Sure, you can quickly search for it using the taskbar search bar, but many prefer to place its icon on the desktop instead. Over a period of time, the icon clutter could increase, and we again spend time searching for its icon. This is where ViPad can help you.
By using ViPad, you can club all the related or preferred apps together, and consolidate them. You can create as many sections as you want and then open your desired app right from the ViPad launcher. For instance, if you have three or four browsers, and you use them simultaneously, you can put them in one Tab. You can similarly place your image editing tools in another tab, and so on.. The following options and features are included in this app,
The tool offers the following options and features:
Place icons in a launcher
Create as many Tabs you want
Change the dimension of icons
Finger & mouse gestures
Stick to desktop
Always on top
Tabbed mode
Show/hide control box
Use Windows DWM
After installing ViPad you will see a blank tab, where you can place your icons. Use the drag & drop method to place icons in the tab.
To add a new tab, click on the Plus sign. If you want to move one app from one tab to another, right-click on the icon > Move to > Select tab.
If you want to rename a tab, right-click on the tab and select Rename.
To change the icon of any app, right-click on the app > Change > Change Icon > Select icon.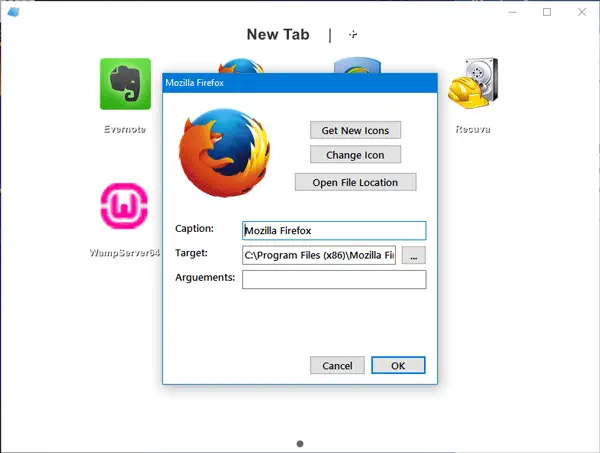 By default, ViPad has no keyboard shortcut to launch it. But you can set a keyboard shortcut using WinKey.
If you want to access ViPad Settings, click on the ViPad icon > Settings, and you will see the options offered.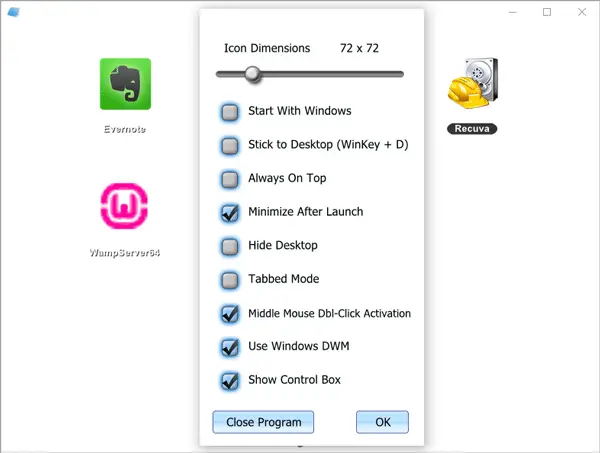 ViPad is a very useful freeware that can help you get rid of your desktop clutter by organizing your desktop icons in a smart way. Not only will it make your desktop look cool, but it is also sure to increase your efficiency.
You can download ViPad from: lee-soft.com.
PS: Although I checked the file with my Kaspersky & Malwarebytes and found it to be clean, based on the comments, you may first get it scanned ay VirusTotal.com and then decide if you want to download it.
Visit these links if you want to take a look at some other Launchers & Docks. How to organize your Windows desktop may also interest you.