VideoUtils is a free online multimedia converter that lets you convert, compress, or edit your videos, and images. Audio and PDF files. We all need to carry out small video or photo editing jobs here and there. While there are a dozen free and paid tools available to do that, have you ever considered doing it online without installing any tool.?VideoUtils is one such website that lets you perform common video editing operations online without installing anything on your computer. Not just videos, it also works with Audio, Images, and PDF files as well.
VideoUtils online multimedia converter and editor
The website has endless operation modes and features to offer. It can work as a video converter, compressor, and whatnot. We have discussed the features in detail as follows.
Video Edit Tools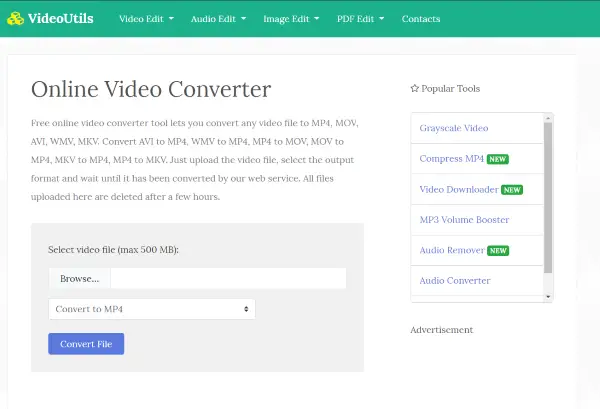 Compress MP4: This lets you compress MP4 file size so that they can be easily transferred.
Compress MOV: Runs compression on MOV files to reduce its size.
Grayscale Video: Converts an RGB-colored video into the grayscale format. It's good for a retro effect on your videos.
Increase Video Volume: Use this feature if you cannot hear your video. It can increase the audio volume of a video.
Video Converter: Lets you convert any video file to MP4, MOV, AVI, WMV, MKV Check this out if you want to make your videos compatible with other devices.
Audio Remover: Helps you in removing audio from your video. Sometimes we do not want to include noisy audio behind a video.
Convert MP4 to MP3: Converts an MP4 Video file to an MP3 Audio file. Useful when you want to listen to some video on an MP3 player.
Audio Extractor: Helps you extract just the audio out of a video file.
Video Stabilizer: Stabilizes shaky videos recorded from a mobile phone camera.
Add Music to Video: Lets you add music or any audio file to a video. The new music file will replace existing audio.
MP3 to MP4 with Image: If you want to create a video file out of an audio file, use this feature. Creates a static video with an image and audio.
Resize Video: Lets you change the resolution of your video, scaling down your video can also decrease size.
Video Downloader: Can download videos from multiple sources including YouTube, Dailymotion, Facebook, and Instagram.
Convert MP4 to GIF: Converts an MP4 Video to GIF image format for easy sharing and display on web pages.
Repair Video: This tool lets you repair and fix broken video files. It can automatically fix some common errors with video files.
Loop Video: Lets you create a longer video by looping one video over and over.
Reverse Video: Converts your video into its reverse format.
Change Video Speed: Speed up or down your video with a factor ranging from 0.25 up to 2.
Audio Edit Tools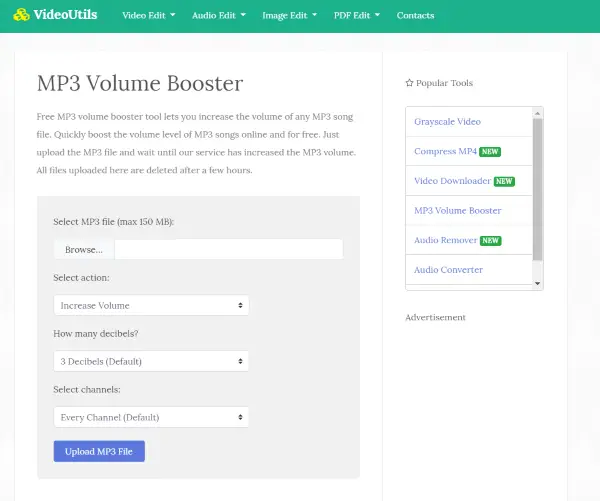 Compress MP3: Use this tool to reduce the size of an MP3 File without degrading quality on certain players.
Convert MP3 to M4R: Helps you convert MP3 audio files to M4R format.
MP3 Volume Booster: Very useful tool if your MP3 file's volume is very low. It can help you boost the volume so that it is audible on all devices.
Audio Converter: Audio converter tool that lets you convert any audio file to MP3, WAV, WMA, M4A, M4R.
Image Edit Tools
Compress Image/GIF: Reduces the size of an image/GIF file.
Grayscale Image: Converts a colored image to a grayscale image.
Convert Image to PDF: Convert any image to PDF format.
Split Animated GIF: Split an animated GIF into its various frames.
PDF Edit Tools
Compress PDF: Reduces the size of a PDF file.
Grayscale PDF: Converts a colored PDF to grayscale format.
Convert PDF: Lets you convert Word to PDF, ODT to PDF, XPS to PDF, and PDF to Image.
Unlock PDF Password: Unlock a password-protected PDF with or without the password.
Repair Corrupted PDF: Lets you repair and fix common issues with a PDF file.
Crop PDF: Trim some parts of the PDF.
So, these were all the features and tools that VideoUtils has to offer. All the tools are fast and responsive. And the files you upload are deleted from the server within a few hours. VideoUtils is certainly a very useful website if you have to perform common compression, conversion, or other tasks on your Video, Audio, Image, and PDF files. Click here to go to VideoUtils.