Whenever there is a change in the library, a user can easily store, track, and restore items via versioning in SharePoint. The feature gives a user control over the content that is posted on his/her site. So, let's find how to configure Versioning in SharePoint 2016 for a library and list, separately.
Enable Versioning in SharePoint for a Library or List
Track and manage information over time with versioning in SharePoint lists and libraries. View and recover previous versions from the item's history. When enabled, new versions are added to an item's history after changes are saved. The number of versions stored and the visibility of draft or minor versions can be modified for each list and library, says Office.com.
The utility of Versioning in SharePoint can be experienced during times when you need to look at or restore an old version of an item or file. For enabling versioning for a list or library in SharePoint-
Access List Settings or Library in the Settings group.
Go to Versions Settings Page
Configure versioning for Document Library
Configure Versioning for List
If you have existing libraries on your OneDrive for Business site that do not have versioning enabled, you can enable versioning for them any time.
1] Access List Settings or Library Settings group
Go to the SharePoint library or list for which you would like to enable versioning.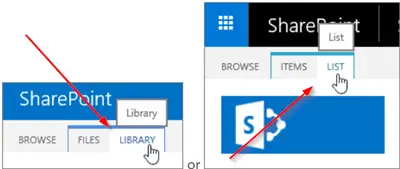 Choose the Library or List tab.
Under 'Settings' group, choose 'Library' or 'List' option.
2] Go to Versions Settings Page
When the 'Library Settings' window opens, click the 'Versioning settings' link displayed in blue.
3] Configure Versioning for Document library in SharePoint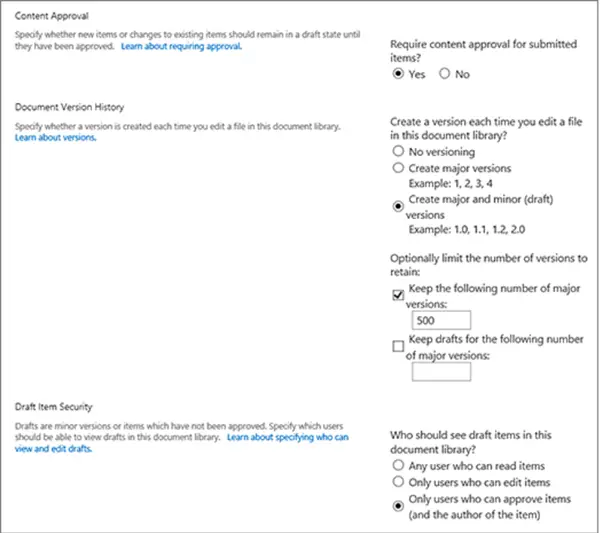 [Image source – Office.com]
When directed to 'Version Settings' page, enable versioning by checking suitable options listed under following headings,
Require content approval for submitted items.
Create a version each time you edit a file in this document library, either major versions only or major and minor versions.
Limit the number of versions and drafts to retain.
Set who can see draft items.
Require documents to be checked before they can be edited.
4] Configure Versioning for List in SharePoint
Similarly, to enable versioning for List in SharePoint, check the desired options under 'Version Settings' page for List.
If at some point, you feel like disabling versioning in a SharePoint list or library
Repeat the steps listed above, but choose 'No versioning' on the 'Version Settings' page. You can also check No for Require content approval.
Anyone with permission to manage lists can turn versioning on or off for a library. Versioning is available for list items in all default list types—including calendars, issue tracking lists, and custom lists.