With the increasing buzz and knowledge of high-quality video frames and movies, choosing the best cable for our devices is more important. There are two popular kinds of cable that are most preferred for quality video output. They are USB-C and HDMI. In this guide, we compare USB-C vs HDMI and see which is better for Gaming or Video quality.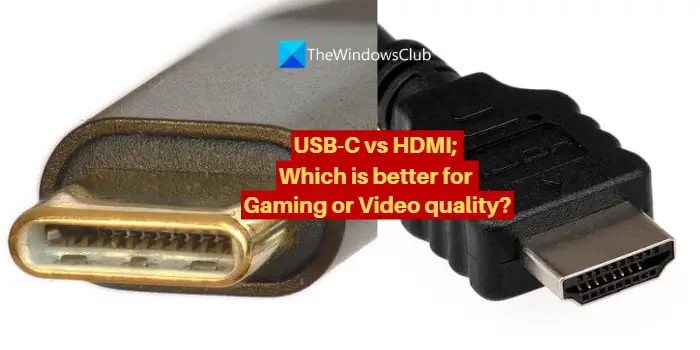 USB-C vs HDMI; Which is better for Gaming or Video quality?
USB-C and HDMI use two different kinds of technologies to transmit video. Let's see how they are different and which is better for Gaming or Video quality
Video Quality
Input Lag
Compatibility
Versatility
Price
Let's get into the details of each aspect and know them better.
1] Video Quality
Both USB-C and HDMI support high-quality video signals including 4K resolution and High Dynamic Range (HDR) content. HDMI has been in usage for over a decade and it got bettered with every passing year to support higher resolutions and refresh rates with the growing demands. HDMI cables can transmit video signals of all qualities including 720p, 1080p, 4K, and even 8K resolutions. HDMI can support even the latest trend HDR content, which enhances the contrast and color of the image to give users an immersive experience with the image.
USB-C on the other hand supports DisplayPort standard which is a digital interface that can transmit high-quality video signals like 4K and HDR content. You need to remember that not all USB-C ports support DisplayPort. It is important to check the specification before buying them. USB-C also supports Thunderbolt 3 which provides even faster data transfer and higher video resolution up to 5K.
Read: Thunderbolt 3 vs USB-C cable difference explained
2] Input Lag
Input Lag refers to the time it takes for the action you make on your controller or keyboard to reflect on the screen. This is a big thing for gamers for playing fast-paced games that require quick reflexes. HDMI is considered to be better than USB-C when it comes to input lag.
Gamers prefer HDMI over USB-C as they offer lower input lag. What makes HDMI different is that HDMI cables are designed specifically for audiovisual devices, like gaming consoles and monitors, to offer high-bandwidth connection to transmit data quickly and efficiently. HDMI cables support higher refresh rates and resolutions which reduces the input lag and provides more responsiveness.
USB-C is primarily designed for data transfer and charging. It may not offer the same responsiveness as HDMI if we compare them both. While USB-C supports high-quality video signals, it is not the best option if you see the gamers' point of view for input lag.
3] Compatibility
HDMI is the established standard that is supported by most monitors, TVs, and gaming consoles. Most devices come with HDMI ports that make them easier to connect with. USB-C is a newer technology that is primarily used to transfer data and charge, it is mostly seen in mobile devices. Very few devices come with USB-C ports. You need to check the specification and supported ports before buying a product to support USB-C.
4] Versatility
Regarding versatility, USB-C has the advantage over HDMI as it can be used for multiple purposes like data transfer, charging, and even for transmitting video and audio signals. You can use a single USB-C cable to connect with multiple devices like speakers, hard drives, monitors, etc.
HDMI, however, is designed for audiovisual devices that limit its functionality to video and audio output. HDMI does not offer as much versatility as USB-C. The biggest advantage of USB-C is its ability to support multiple protocols like DisplayPort, Thunderbolt, and USB 3.1.
5] Price
HDMI cables are less expensive than USB-C cables. Though USB-C cables are affordable, they are not as expensive as HDMI. You can get a HDMI cable from a branded company for the price you spend on a cheap USB-C cable.
These are the differences between USB-C and HDMI. So, we can conclude that HDMI is better for video output and gaming since it has the advantage of less input lag.
Read: USB-C not working, charging or recognized on Windows
Is USB-C better for gaming?
No, since USB-C cannot offer low input lag and responsiveness than HDMI cable, USB-C is not better for gaming. If you play games that need quick responses from you, USB-C might ditch you. HDMI on the other hand can decrease the input lag considerably.
Does HDMI affect gaming performance?
Yes, HDMI affects gaming performance with less input lag and supports higher refresh rates and resolutions up to 8K. You will see the difference while playing high-quality games.
Read: How to connect Windows Laptop to TV or Projector via HDMI.