Animated GIF images are cool and have their use. But they can get irritating at times, like when you are browsing your Twitter timeline or reading a web page. The movement can get distracting, as they start auto-playing as soon as you load the page.
Turn off GIFs and disable animated images in the browser
This post will show you how to turn off GIFs and disable animated images in Edge, Chrome, Opera, Vivaldi and Firefox browsers and stop them from auto-playing on your Windows 11/10 PC.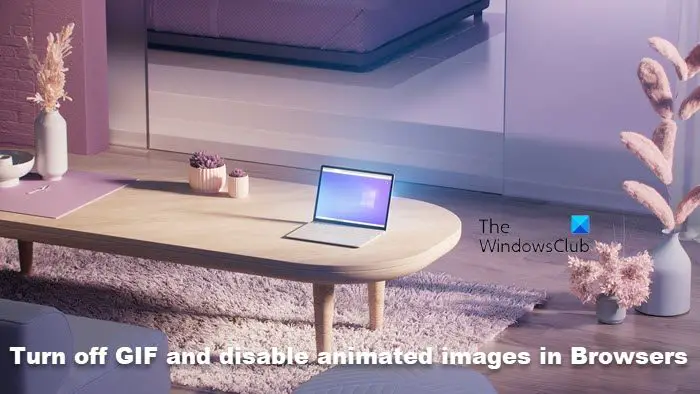 1] Chrome
Chrome users need to take the help of a browser extension. AnimationPolicy from Google will help you take control. HideGIFSIamReading lets you turn displaying GIFs on when you want them and off when you don't want to get distracted. Others like StopAnimations, GIF Jam Animation Stopper and GIF Blocker, are also available at the Chrome Store.
2] Firefox
Type about:config in Firefox address bar and hit Enter to open Settings. Search for the image.animation_mode flag and change its value from Normal to None.
Restart Firefox. This will completely disable image animations.
Firefox users can also use an addon called Toggle animated GIFs.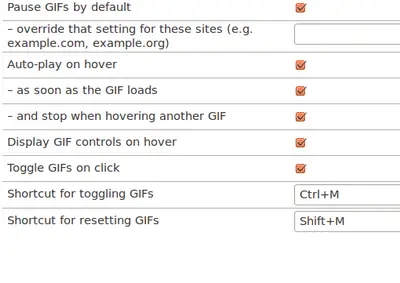 This addon lets you stop or start the GIF animation using a keyboard shortcut or by clicking on them. It also lets you restart animations from the beginning, or disable animations by default. You have to press Ctrl+M to disable or enable the animation and Shift+M to restart the animation.
3] Microsoft Edge
There appears to be no way to disable animated GIF images in the Microsoft Edge browser. But users of Edge (Chromium) browser can install the Chrome extensions mentioned above and use them.
Edge users can also try the following setting in Internet Options and see if it works.
4] Internet Explorer
If you want to turn off the animation one time, you can hit the Esc key. This will stop the animation. If you wish to replay the animation, you must refresh the web page.
If you wish to permanently disable the playing of animated GIF images, open Internet Options > Advanced tab. Under the Multimedia section, uncheck the Play animations in webpage check-box, click Apply and Exit. This will stop animated GIF files from playing only and not Java applets.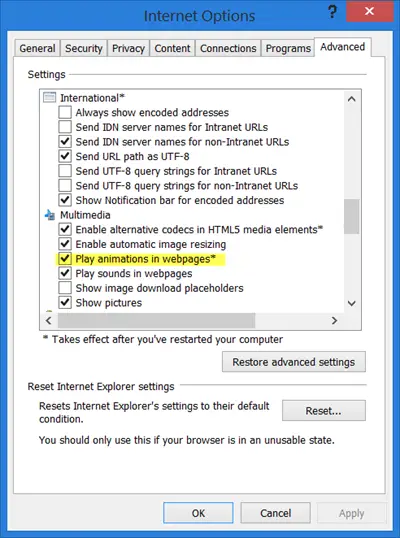 You will have to restart your Windows computer.
5] Opera
Opera users will also have to download and install the Chrome extensions that have been mentioned above.
6] Vivaldi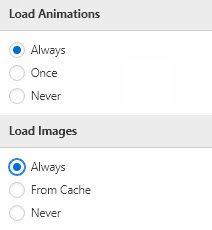 Open Vivaldi > Toggle Images> Load Animations > Select Never to disable GIF animations in the browser. It also applies for animations created from PNGs and SVGs.
Bonus Tip: If you wish to permanently turn off GIF and Video AutoPlay on Twitter, open your Settings > Account > Scroll down to Content and uncheck Video autoplay.
I will update this post if and when new settings are introduced by any of the browsers.