For all its users and businesses alike, Microsoft pledges to make the transition from Internet Explorer 11 to Edge a hassle-free process. It is in this regard, the software giant has created some very helpful online setup guides and tools to help you migrate from Internet Explorer to Edge quickly.
Is Microsoft Edge taking over Internet Explorer?
Its final, Internet Explorer application will go out of support next year on June 15, 2022, for certain versions of Windows 10. So, to speed up the adoption of IE successor or encourage customers to move to the next generation browser, Microsoft has come up with guides that provide simple automated tools with tailored step-by-step guidance. These include,
Edge Advisor a.k.a Microsoft Edge setup guide
Discover and configure sites that require IE mode a.k.a Configure IE mode guide.
The former finds its use for end-to-end deployment while the latter is useful if you are looking to configure IE mode. So, whether your organization relies strictly on IE11 or uses it in tandem with another browser to specifically access older legacy websites/apps, these guides.
Also, to simplify the deployment furthermore, Microsoft is offering (Q3 2021) In-product education tool for Microsoft Edge. It will help you find if you are ready to migrate and assist you with all the necessary support. The tool will be added to the Adoption step in the Microsoft Edge setup guide (Edge Advisor).
Similarly, for configuring IE mode on Intune-managed Windows devices and deploy common Microsoft Edge policies (including IE integration) via Intune directly, you'll have (Q3 2021) Enhanced Intune configuration support tool at your disposal.
To access the Microsoft Edge guides, you will require admin permissions in the Microsoft 365 admin center. Even if you don't have the permissions, Microsoft has a workaround for it. you can request a new trial tenant—such as the Office 365 E5 trial—to get access to these guides for a 30-day period via Microsoft 365 admin center.
Migrate from Internet Explorer to Edge quickly using these tools
1] Open the setup guidance page in the Microsoft 365 Admin Center.
2] Use the Product filter to find the Edge guides.
3] Select the desired guide.
4] Review security baselines for Microsoft Edge using the Security Compliance Toolkit.
5] Checkout protection and security features recommendations, such as Microsoft Endpoint Data Loss Prevention.
6] Thoroughly read Microsoft Edge security settings and configuration details.
7] Start configuring a subset of the most widely used Microsoft Edge policies. You'll need to download a script if you wish to configure some of these policies using group policy.
8] To build an Enterprise site list for IE mode, enable or disable site discovery data collection.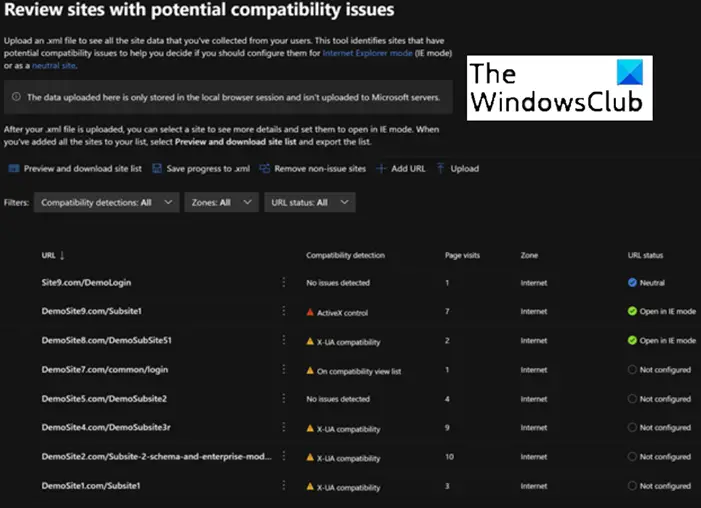 9] Curate and create your Enterprise site list.
10]  Specify how URLs open in IE mode
Once you have things in place, Microsoft offers additional guides for more advanced needs like,
For more information, you can visit Microsoft Blog and choose the right Microsoft Edge setup guide for your needs.
How do I change from Internet Explorer 11 to Edge?
If you are an end-user who still used Internet Explorer but want to change to Microsoft Edge, do the following. Open Settings > Apps > Default apps and under Web browser, select the Internet Explorer browser currently listed, and then select Microsoft Edge.
Hope it helps!