The file is locked error message in Microsoft Teams isn't very specific, so it is difficult to assess what the problem or solution may be. However, if you don't mind trying out a few options, find them here in the post below.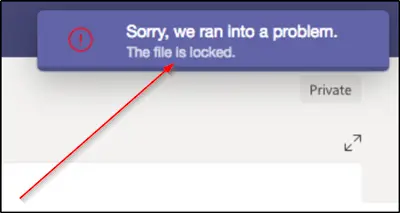 Microsoft Teams error – The file is locked
Microsoft Teams users can encounter Sorry, we ran into a problem, The file is locked issue. If you face this problem, try these solutions to resolve the error:
Leave the Team and rejoin it
Clear Microsoft Office cache
Try opening Microsoft Teams file from SharePoint
1] Leave the Team and rejoin it
You can leave a team at any time by simply going to the team name, clicking More options (visible as 3 horizontal dots and selecting the 'Leave the team' option.
Later, you can again follow the same procedure to rejoin the team.
Please note that although you can leave a team on your own, only an admin can remove you from an organization or an org-wide team.
2] Clear Microsoft Office cache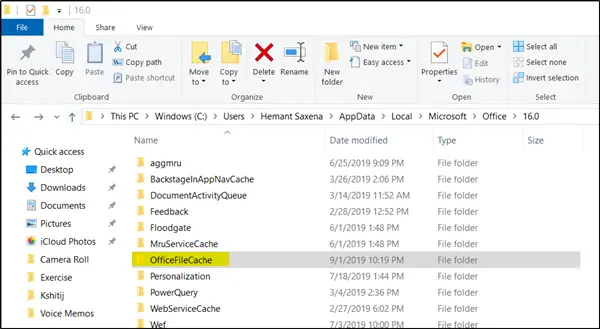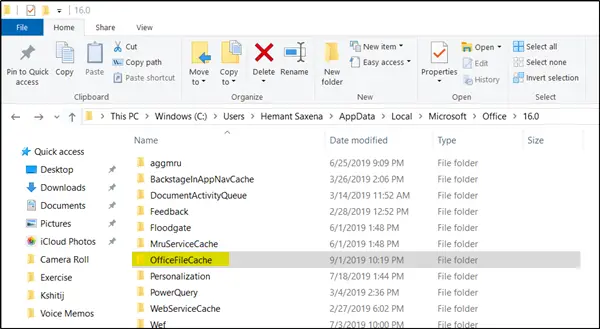 The Office cache contains the files Office uses to make sure your changes are saved in the cloud. Sometimes when you use Office with other apps in the cloud, the apps might not respond and fail to sync properly before you close Office. This process can unknowingly cause damage, or corrupt, your Office cache. As such, it is a better choice to clear Microsoft Office cache.
Launch 'File Explorer' and navigate to the following address:
C: Users\<username>\AppData\Local\Microsoft\Office\16.0
This path is for Office 2016. It may vary according to your Office version.
There, open the OfficeFileCache folder and delete all the files that start with FSD and FSF.
When done, try accessing Teams again via Office admin and verify if the issue is resolved.
3] Try opening Microsoft Teams file from SharePoint
SharePoint is the content service that powers the default Files (tab) experience in Teams. So, to fix this error, you can try editing the concerned file from the SharePoint.
For this, open the library with the file you want to check out in SharePoint.
Then, click the ellipse (…) in the toolbar and then click 'Check Out'.
When done, try opening the same file in Microsoft Teams.
Your problem hopefully should have been resolved by now.