Windows is known for its multitasking capability. It allows you to put multiple apps on your screen, run multiple tabs in one browser, and do a lot of other things. But what most people don't know is that you can actually make the sound come out of two different sound devices and in most cases, it's a speaker and headphones. That is why, in this post, we are going to see how to split sound between speakers and headphones on a Windows computer.
Yes, you can actually split audio between headphones and speakers. So, you can play games and hear the audio on your headphones and watch movies with your friends on the speakers. It is quite easy, all you have to do is change the output devices of apps separately and set them to whichever device you like. Hereinafter, we are going to see how you can do the same on your Windows 11 or 10 computer.
Split Sound between Speakers and Headphones on Windows PC
To split sound between speakers and headphones, you need to obey the following two-step process.
Open Volume Mixer or Device Preferences.
Set Output devices for apps.
Let us talk about both these steps and see how to do them.
1] Open Volume Mixer
If you are on Windows 11, Volume Mixer is the place from where you need to configure your sound settings. The easiest way to open the interface is by right-clicking on the volume icon from the taskbar and selecting the Open volume mixer button.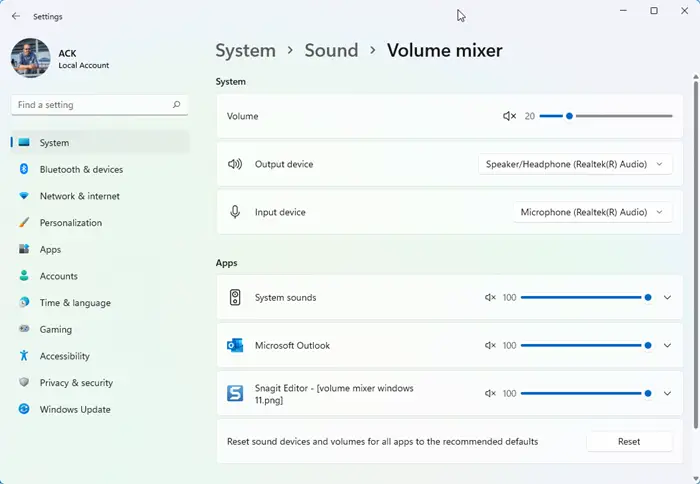 If you don't want to use this method, you can also open the same using Windows Settings. Just hit Win + I to launch Settings, then go to System > Sound > Volume mixer. 
You can use any of the methods, but we believe that the former is the easiest one
Windows 10 users need to right-click on the icon and select Open Sound settings. Then, select App volume and device preferences from Advanced sound options.
Now that you have opened the required apps needed to split sounds, let us go to the next step.
Read: Fix Volume Mixer not opening on Windows 11 
2] Set Output devices for apps
You need to set specific output devices for different apps. You can easily click on the drop-down menu button of the app you want to change the output device of, click on the drop-down menu of Output devices, and select either your Headphone or Speaker. Now, configure another app that you want to use at the same time and select a different output device for it.
So, let's say that you want to use Origin, the game launcher, to play audio with your headphone, just configure it that way and then configure your browser or any other app to audio with your speaker by changing their respective Output devices.
You can also configure microphones, an app to use a headphone microphone, and one to use your computers'. All you have to do is set the Input devices of those apps and you will be good to go.
That is how you can split audio between two different output devices.
Read: How to connect Multiple Bluetooth Speakers to One PC?
The app is missing from the Volume Mixer
If the app that you want to configure the output device of is missing from the Volume Mixer, then this means that it's not running in the background. You need to remember that an app will only appear in the Volume Mixer if it's running in the background. So, if you want to split sound between two apps make sure that they are running in the background. You can obviously launch them just for the sake of changing the output devices and Windows will remember it.
Reset Output Devices Configuration for all the apps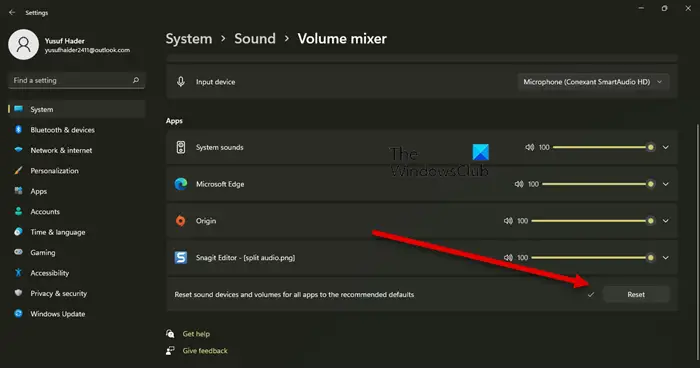 As mentioned before, Windows will remember the changes you have made for each app. So, even if you close the app or your computer, the next time you open it, the output devices will be the same as you have set earlier. If you are not liking the changes you have made, you can always change the settings manually, but that would take a lot of time especially if there are a lot of misconfigured apps.
In that case, open Volume Mixer and click on the Reset button placed next to "Reset sound devices and volumes for all apps to the recommended default". This should do the job for you.
Read: How to get back the old Volume Mixer in Windows 11 
How do I enable Stereo Mix in Windows 11?
To enable Stereo Mix in Windows 11, follow the prescribed steps.
Open Control Panel.
Go to Hardware and Sound > Sound.
On the Playback tab, right-click on the empty place.
Select Show Disabled Devices, and Disconnected devices.
It should reveal Stereo Mix.
Right-click and enable it.
This will enable Stereo Mix on your computer.
Also Read: Stereo Mix not working or picking audio in Windows 11/10.