Google Docs is one of the best word processor services out there. It brings many interesting features such as support for its keyboard shortcuts, compact view mode, insert a watermark, etc. Although it has many good features, it lacks some basic options that should present in Google Docs. One of such options is to show line numbers in a document in Google Docs. This post will help you how to show or add line numbers in a Google Docs document using Chrome browser.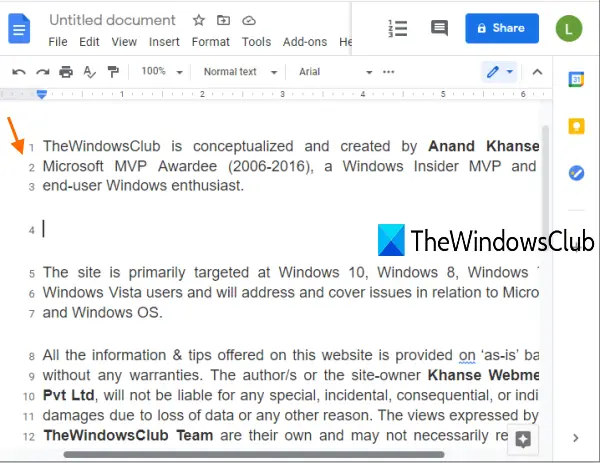 As you can see in the above screenshot, line numbers are visible in a document in Google Docs. Though there is no such native feature in Google Docs, you can still do that using a free Chrome extension named Line Numbers for Google Docs. You will have the options to show line numbers for blank lines, header, etc. Let's check how to use this extension.
Show or Add line numbers in Google Docs document
These are the steps:
Install Line Numbers for Google Docs extension
Activate the extension by signing in with a Google account
Open a Google Docs document
Use the Line Numbering option of this extension
Set options
Press Apply to show line numbers in your document.
You need to install the Line Numbers for Google Docs extension from the Chrome Web Store. You can also use this Chrome extension on Microsoft Edge.
Once the extension is installed, its icon will visible on the Extensions toolbar of the Chrome browser. If the icon is not visible, click on the Extensions toolbar icon, and use the Pin option for this extension to add it in the toolbar.
After that, activate this extension. For that, click on the extension icon, and you will see a pop-up. In that pop-up, click on the Sign in with Google option, and then sign in with any Google account of your choice.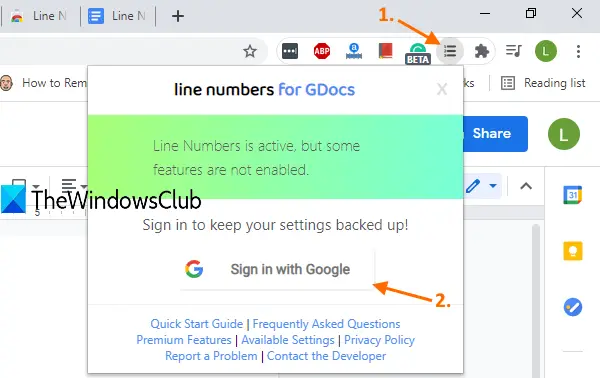 Now open a Google Docs document. You will see a Line Numbering icon or option on the top right part just before the comment history icon.
Click on that icon and the Options box of this extension will open. There, select the Show line numbering option.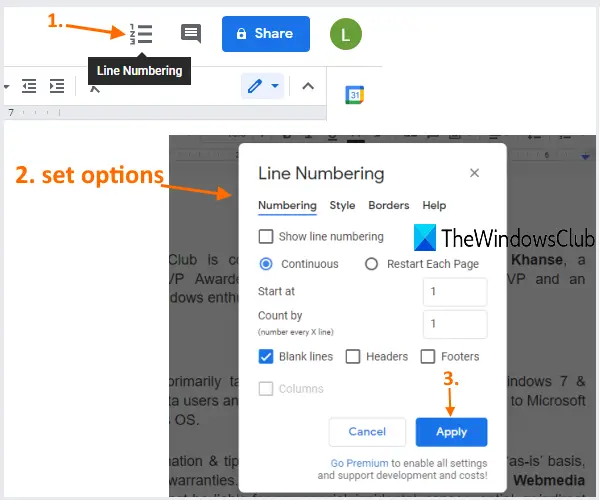 You can leave the rest of the options as default or change them. For example, you can select the Continuous option to show line numbers as continuing for all the pages of your document or select the Restart Each Page option to show line numbers from the beginning for each page.
Other options such as show line numbers for blank lines, header, and footer, show line number after every N line, etc., can also be set by you. When the options are set, press the Apply button.
It will immediately add line numbers to your Google Docs document.
There are some other options also present such as style for line numbering, add left or right border, change color, etc., but all those options are present in its premium plan. Still, the free plan of this extension is good enough to serve the purpose for what it is meant for.
Hope you like this line numbering extension for Google Docs.