Sharing videos online with family and friends is not a difficult task. There are a ton of options available, but many of them are not good enough if you want to share high-quality videos. Therefore, we need to talk about the best tools on the web for doing this.
How to share videos online with family
The tools we are going to discuss are free to use and can be accessed from anywhere in the world, and from any web browser, at least from our point of view.
WeTransfer
Firefox Send
YouTube from Google
Facebook
OneDrive
Google Drive
Videosprout.
1] WeTransfer
Unlike others on this list, WeTransfer does not require the user to create an account, and there is no worry about videos having a presence on the web. Just launch the app, make sure your video has a maximum size of 2GB, and you're good to go.
Bear in mind that videos are only active on the platform for seven days, and you can only share it with up to three persons via their email addresses. Visit the official website.
2] Firefox Send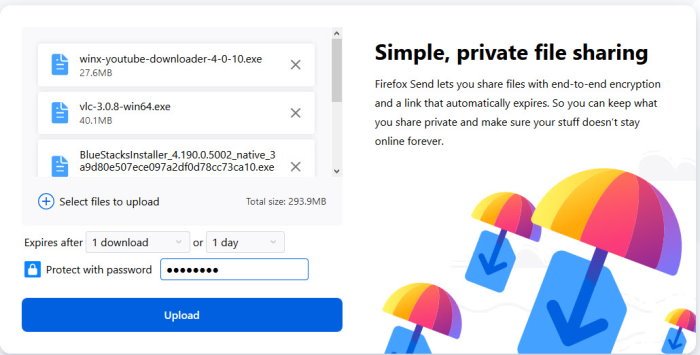 We love Firefox Send because folks can share content with end-to-end encryption. Since Mozilla, the creator of Firefox, is a company that takes privacy seriously, potential users can trust their files will not be accessed by anyone with ulterior motives. Learn more about Firefox Send by reading this article.
3] YouTube from Google
YouTube is the best option here, and for exceptionally good reasons. The service is the top video platform on the internet today, and that will not change for years to come. It is the go-to spot for most people when they want to share their amateur and professional videos.
Since the idea is to share amongst family and friends, then sharing publicly is out of the question. Worry not, however, because YouTube gives creators the ability to share private and unlisted videos.
When it comes to private, the user can invite up to 50 people with a YouTube account, and the video will not show up in public search. As for unlisted, well, anyone with the link can view the video, but it will not show up in public YouTube search.
Additionally, users can upload videos with a size of up to 128GB, or 12-hours run time, whichever comes first.
4] Facebook
Yes, this might sound strange, but Facebook is still a thing. Young people are using other platforms more often, but all the same, Facebook is still the king of social media. It does not hold a candle to YouTube in terms of video size.
The size limit is 4GB, and the length tops out at 120-minutes. That should be enough for sharing with family and friends during these difficult times. With Facebook, the user can share content with just specific friends, so there is no one to invite if they are already on your list.
5] OneDrive
In terms of cloud storage services, we want to give a shout out to OneDrive. It is one of the best out there, so if anyone wants to share videos with family and friends, then OneDrive is a great option to look at. Microsoft offers 5GB of free storage, which should be enough for most people at this time.
However, for those who might need more storage, OneDrive has paid options. Still, if you are a Microsoft Office subscriber, then by default you should get upwards of 1TB storage. That should hold you over for a long time to come.
6] Google Drive
Another great and quality cloud storage service to consider is Google Drive. It has over 1.5 billion users and provides 15GB of free cloud storage. That's quite a lot, so there is a chance you may never have to take advantage of the paid service Google Drive brings to the table.
Like OneDrive, folks can download a Windows 10 app and a mobile one for easy sharing of files. Furthermore, whoever you're sharing with doesn't need to have an account.
7] Videosprout
OK, so another online sharing tool users could make sure of sharing content with family and friends, is Videosprout. With this service, you can upload almost any file type, which makes this perfect for those who are not inclined to use MP4 and may not want to convert videos.
Additionally, folks can stream videos from Videosprout, so there are little reasons to download content if you do not want to.
Any other suggestions?