If you are one of those people who take privacy seriously, then I am sure you want all your Notes safe as well. In this post, we are sharing a list of some free secure digital notebook software. These applications are Note taking apps, and they make sure all your data remains encrypted. Some of them are available as software while others are available online.
Secure Digital Notebook Software or Online Services
These are some of the best private & secure Note taking apps, digital notebook software & online services you can use to protect notes, passwords, images, and files.
Saferoom
Protected Text
LastPass Secure Notes
Tutrl App
Joplin
1] getSaferoom.com
Saferoom is a software which can encrypt your data stored in cloud services. It lets you use whatever software you use daily but makes sure every time you put a file on any of the support cloud services, it is secured. When used with Office, you can choose only to encrypt part of the excel sheet. It gives you the freedom to reveal what you can and hide what you don't want everybody to look at it.
It supports 1Password and LastPass to facilitate the usage of the passwords. It is available for Windows, Android, iOS, macOS, Chrome extension, and on Github. The app for Windows says 8.1, but it works for Windows 10 as well. However, it's best to use the Chrome extension as it works on all supported services.
2] ProtectedText.com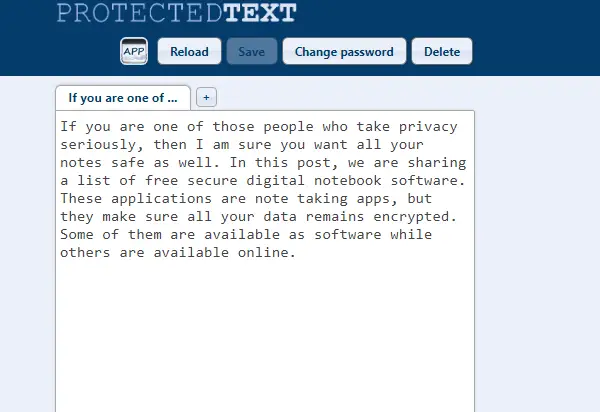 It's a web-based secure solution where you can create a unique URL, and save multiple notes. The URL can be anything like "protectedText.com/anything." You get a tabbed interface so you can maintain separate records. Further, when you choose to save, it's compulsory to protect it with a password. However, if you lose it, there is no way to recover it.
No cookies or tracking.
No advertisements as they can track you.
The codes used to make this service possible is available publicly for comments and analysis.
When you access the same URL from different devices, it makes sure there is no overwrite.
3] LastPass Secure Notes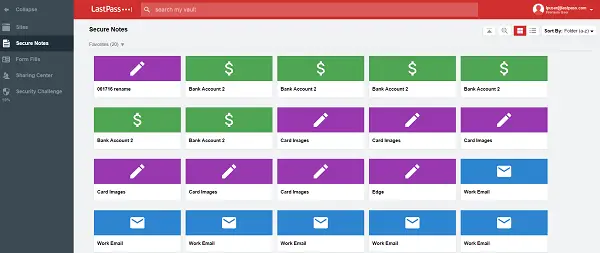 LastPass is one of the secured & popular password managers. They also happen to offer Secure Notes which is protected the same way as your passwords.  They are usually used to store sensitive information like Bank Account numbers etc.; you can use them to save notes as well. All your data is encrypted locally on your computer with the key you chose so nobody will have access to it.
4] TutrlApp.com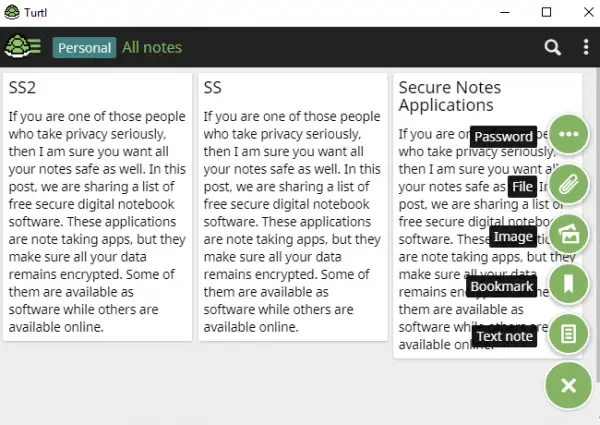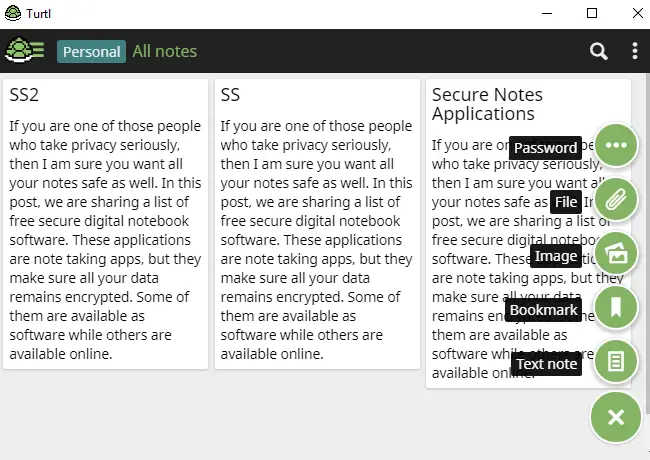 Install the application, create an account and you are all set. Here you can store as many notes you want. It also offers features like collaboration, and sharing so you can always work with a team. Apart from taking notes, you can use it to organize almost everything. It is available as a browser extension so you can add bookmarks, passwords, lists and sync it across devices.
It uses high-end cryptography to protect data and makes sure to protect against information leaks, competitive advantage, or blanket government surveillance. You can also choose to install your Turtl server and host all the data inside it.
5] Joplin.cozic.net
Joplin is another free, open source, but a decentralized note-taking tool. It allows you to host your notes on your computer or over a website or even on a  Dropbox account. It offers end-to-end encryption to make sure the data is secured not only during transmission but also at the destination. It is available for Windows, Linux, macOS, Android, and iOS. Here is a list of its features:
View your notes in plain text, markup, and split screen.
You can attach a file of any size of you have space to host it.
Can automatically backup your data.
It offers a browser extension.
It supports notes, to-dos, tags, and notebooks.
The entire data is always available on the device even without an internet connection.
You can search in your notes.
Edit it in your favorite editor.
The list concludes some of the best free secure digital notebook software or online services. The data in those notes remain safe, and some of them even let you host your records on your computer. Let us know which secure note application you are using.