One visible change that you will observe in Excel in comparison to its earlier versions is the addition of a new template called Calendar Insights. The template displays a detailed record of how much time you spend in meetings, whom you meet with the most and which part of the day you find most appropriate to meet the people. You can find your calendar in the form of a dashboard, and begin interacting from there. So, in this post let's see how to Open and the Calendar Insights workbook with your data in Excel.
How to save Calendar Insights in Excel
Open Excel and search for the Calendar Insights template.
Now, to access your calendar using the template, you need an active account on an Exchange Server, or on Exchange Online as part of your Office 365 subscription.
If your account is active, select New in Excel and navigate the cursor to 'Calendar Insights'.
If you have any difficulty finding the template, use the search box of the application and type calendar insights. The Calendar Insights template should appear on completion of the action.
Open the template and you should see the first workbook tab, titled Start. Select the Let's Get Started button to begin.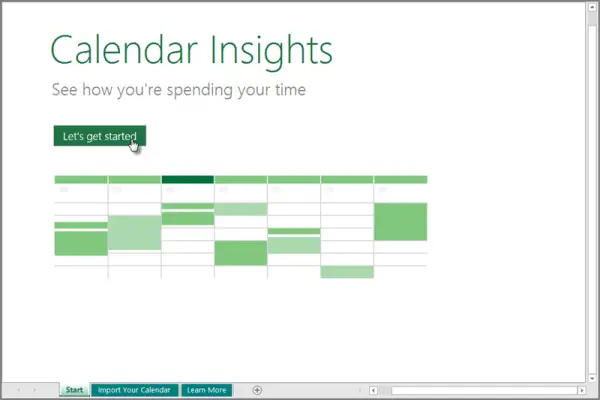 Towards the bottom, you will see the 'Import Your Calendar tab is selected', providing steps about how to connect to the Exchange Server and import your calendar.
Hit the Sign-in button! When you do this, Excel app will display a dialog that requests the user to enter an email address and password, so the app can connect to your Exchange Server and load your calendar information into the workbook.
Once complete, the Meeting Insights worksheet appears and shows a populated dashboard that features a collection of detailed analytics based on your calendar.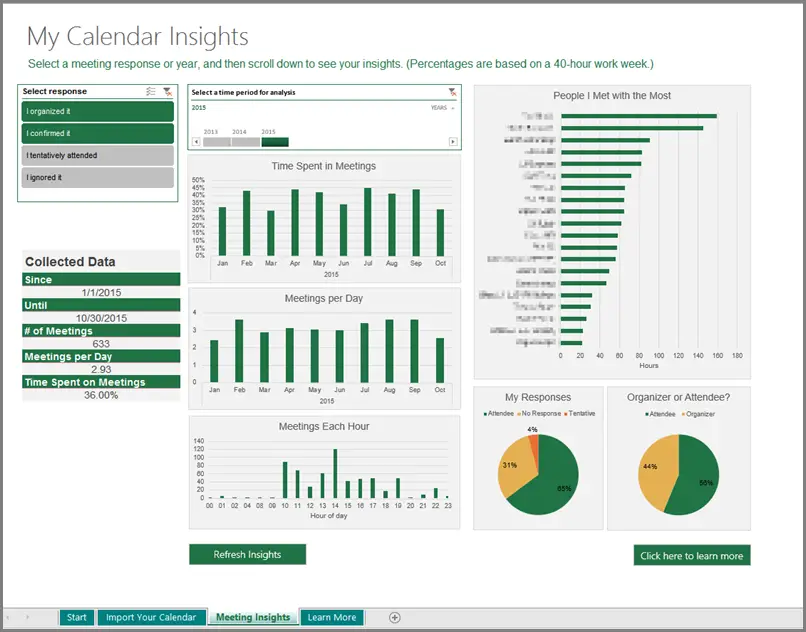 To save the Calendar Insights workbook with your data as a macro-enabled workbook, do the following:
Select File, scroll down to locate 'Save As' option. Hit the button!
Next, select a destination and choose Excel Macro-Enabled Workbook in the Save as type drop-down menu. Saving the workbook as a macro-enabled workbook ensures that all charts are updated automatically, every time you select the Refresh Insights button on the Meeting Insights worksheet.

Finally, if you require any sort of data from your calendar, open the workbook and select the Refresh Insights button at the bottom of the Meeting Insights worksheet.