Microsoft gives importance to users' feedback and every Microsoft product and service has been getting a feature where a user can send feedback using a dedicated button. It comes in applications like the Office suite, Microsoft Edge and other online Microsoft services like Outlook and Skype. But for those who need faster access to many extensions, the Send feedback button stands in the way. You can either disable the button or remove it completely from the browser.
Disable or Remove Send feedback button in Microsoft Edge
As mentioned, you can disable or remove the Send feedback button from Microsoft Edge based on Chromium using two methods:
Disable Feedback Button in Microsoft Edge Settings
Remove Feedback Button via a Registry hack
We'll see both the methods mentioned above in detail, so, let's begin!
Before proceeding further, create a backup. Using Registry Editor incorrectly can cause serious, system-wide problems that may require you to reinstall Windows to correct them. We cannot guarantee that any problems resulting from using Registry Editor can be solved.
1] Disable Feedback Button in Microsoft Edge Settings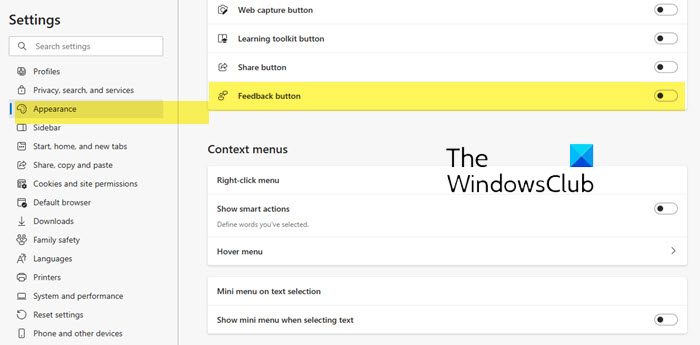 Launch the Microsoft Edge browser.
Next, click on the 'Settings and more' option, and choose 'Settings'.
Now, switch to 'Appearance' section on the left side
Toggle the switch for 'Feedback button' on the right side to disable it.
2] Remove Feedback Button via a Registry hack
Open the Windows Registry Editor and navigate to the following path:
Computer\HKEY_LOCAL_MACHINE\SOFTWARE\Policies\Microsoft\Edge
If the path does not exist, create it.
Next, create a DWORD (32 – bit) and name it as 'UserFeedbackAllowed'.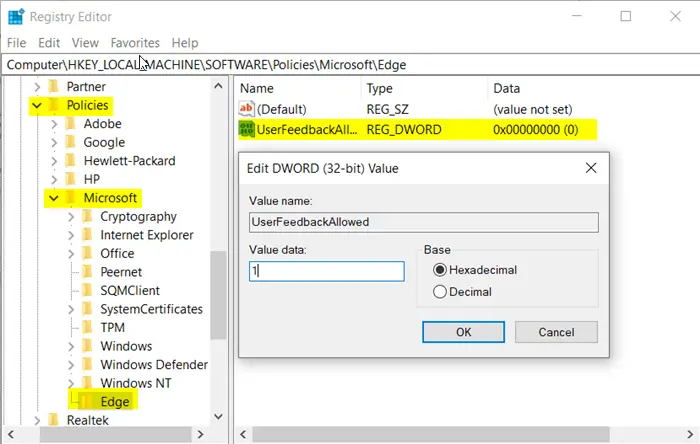 Set it Value data to 0 while the base is set to be Hexadecimal. Once you are done, save the configuration.
Reboot your computer to find the Send feedback button gone from the new Microsoft Edge browser.
This means that you will not be able to send any feedback related to the browser to Microsoft.
However, if you wish to get it back, set the Value data to be 1.
Reboot your computer again to get the Send feedback button back.
If you wish, you can download and use our .REG files that allow you to:
Remove the Send feedback icon
Add the Send feedback icon
I hope you find this tip useful.