Google Photos allow you to upload high-quality photos without counting them against your total data storage. If you plan to upload high-resolution images, it will count against the 15GB of free storage space, or if you have upgraded to Google One, then against the 100GB plan or more you buy. Coming back to the topic, if you gave in to the temptation of uploading high-resolution images on Google Photos, and then run out of space, then the Photos app will not allow uploading of pictures from your phone. However, Google offers an option to recover Storage on Google Photos if you switch to High-Quality only. We will show you how you can do that.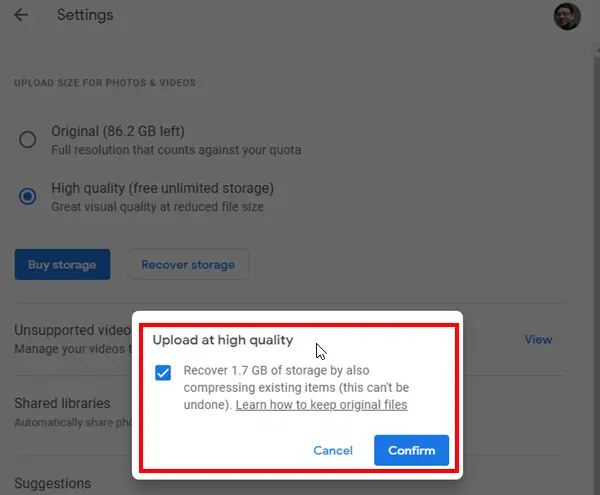 How to Recover Storage on Google Photos
Go to photos.google.com, and click on the hamburger menu after signing in with the account.
Click on Settings, and switch to High Quality.
As soon as you do that, you will see a prompt "Recover XYZ.abc GB of storage by also compressing existing items (this can't be undone)."
Check the box and click on the Confirm button.
Google Photos will start reducing the size of the photo of the uploaded images to match with High Quality.
You should see a message, "Compressing photos & videos to high quality."
Depending on the size of the images and videos uploaded in Original quality, it may take time. You can close the windows and come back later to check how much storage was recovered. You can note down the amount of storage space left, which is available with the Original radio button option.
Note: You can only restore storage once a day.
Once complete, I would suggest that you change the backup option in your mobile to High Quality. Change on the web or anyone mobile device doesn't change it on all devices.
Open the Google Photo app on your Android smartphone
Tap the hamburger menu at the top.
Navigate to Settings > Back up and sync >  Backup Mode.
Choose High Quality
I am using Google One Plan, and I accidentally turned on Original back, and later ran out of space. I was not ready to pay to upgrade storage, and hence this option came out very handy. Kudos to Google that they offer this option, which otherwise will either force people to pay or quit using Google Photos app.
There is another option on the Phone for Google Photos called Express backup mode. It compresses photos to 3MP and videos to SD quality. Never use that – because most of the mobile cameras shoot excellent quality pictures, and compressing them to 3Mp will be a bad idea.