When it came to external storage devices, which do not need any power, Floppy Disks, DVD Players, CD were some popular options a decade ago. Then came Blu-ray Disc. In today's world of 4K videos and games, which take 10-20 GB data size, the need for a portable storage device was much needed. That is where Blu-ray Disc came into the picture. Windows 11/10 doesn't have any dedicated software which can play them, so in this post, we will share how you can play Blu-ray using free Blu-ray player software.
Play Blu-ray Discs on Windows 11/10
Do you need a Blu-ray player?
That's a brilliant question. Here is the deal. If you have the disc and want to play it, you have two options: Blu-ray player or software or ripped content from the source. If the content is already ripped, you can play it with any player, but you need the software to play with the external player. Right now, we are going to talk about software that can do it for you. So insert the Blu-ray disc in your player, and use this software to play it.
Blu-ray player software for Windows 11/10
We always have seen software that lets consumers play formats that were never supported on Windows. The same applies to Windows 11/10, which is better compared to its previous version, with native support for MKV and other formats.
VLC media player
MakeMKV
LEAW Blu-ray Player
Try each of them with an actual Blu-Ray disc or an ISO made from the Blu-Ray disc.
1] VLC media player

It is the best option you have, and with its reputation to play almost any format, there is no better alternate solution.  Developers behind this player have developed, libbluray which is an open-source library designed for Blu-Ray Discs playback for media players, like VLC or MPlayer.
VLC also offers to remove a few Blu-ray protections, including AACS, BD+ DRM. However, it's limited, and you need to add the keys to decrypt and play. So, in short, you cannot pirate copyrighted videos, but if you own a video, you can get the keys and play it on your PC.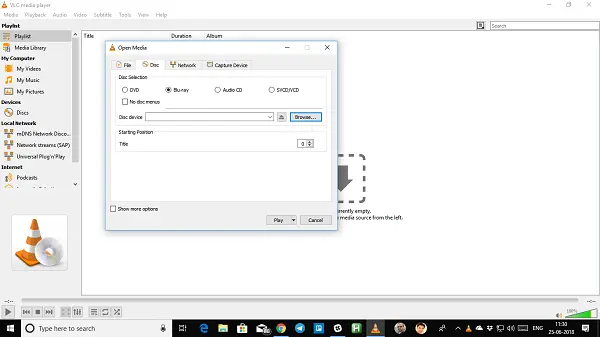 Assuming you have the Blu-ray disc in your external Blu-ray drive and enjoy the videos without having to convert them to a digital file.
Open VLC media player > Media > Open Disc
Select Blu-ray from the choice, and then browse to locate the folder which has the movie.
Start playing Blu-ray movies on Windows with VLC.
Please use the desktop version to play this. That said, it only plays Blu-ray discs with AACS libraries exposed.  So how do you play others? You'll need two files: keys database and AACS dynamic library. Follow the steps below:
Download the files from vlc-Bluray.whoknowsmy.name. Your browser may throw up an 'expired certificate' warning. If so, you may use your discretion whether to proceed or not.
Copy, paste the keys database file in C:\ProgramData\aacs\. You might have to unhide the folder.
Copy AACS dynamic library( libaacs.dll), and place it in your VLC directory.
It will make sure you can play Blu-ray on Windows 11/10, including those for which the key is exposed.
2] MakeMKV
This video converter can convert even the encrypted formats into a format that you can easily play on your Windows 11/10 PC. It coverts into MKV format, which you can play using the VLC player layer. The advantage of the MKV format is that it can store multiple video/audio tracks with all meta-information and preserve chapters.
Note: We do not encourage anyone to copy content that is protected by the law. Use it only for personal use.
Here is the list of features:
Reads DVD and Blu-ray discs, including those protected with the latest versions of AACS and BD+
Preserves all video and audio tracks, including HD audio, chapters information, meta-information (track language, audio type)
Claims for Fast conversion.
Can stream videos.
Available for Windows, Mac OS X, and Linux
Download it from here.
3] LEAW Blu-ray Player
If you are looking for a player who can play videos from your Blu-ray player, this is what you need. It's an alternative to VLC and is free of cost. Below is the list of features:
It supports subtitles and audio tracks.
Supports various advanced audio decoding technologies, including  Dolby, AAC, TrueHD, DTS-HD, and DTS 5.1
Standard media controls.
You can create and play playlists.
Custom program skin and background.
In-built Power Manager lets you see PC or laptop power status and do settings to protect the battery.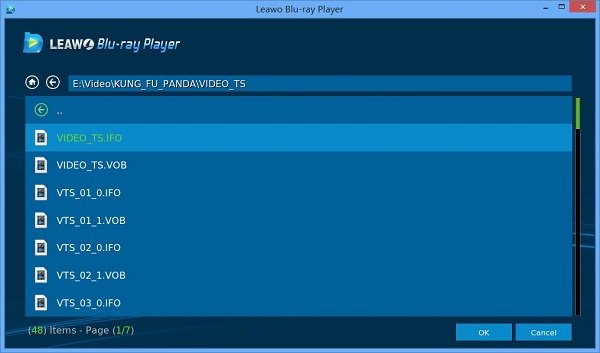 Apart from playing Blu-ray format, it can also play AVI, MPEG, WMV, MP4, FLV, RMVB, MOV, Xvid, 3GP, etc. and up to 1080P HD videos in HD MP4, HD AVI, HD MOV, HD TS, HD TRP, HD VOB, HD MPG, HD WMV, HD ASF.
Download it from here.
That said, Blu-ray is a mess, to be very honest, and this has happened before with any new format. You will have to depend on the inbuilt player that comes with the drive and use it or use one of the above-listed players.
Can you play Blu-ray on a PC without a Blu-ray drive?
Yes, you can play if you have an exact copy of the Drive-in form of an image. You can mount the image in the player, play the Blu-ray format, and play the video inside. Like how the player would decode the format and play it on the screen, this software does the same except that they don't need the hardware.
Can I use disc burner software to burn a Blu-Ray disc?
While you can, mainly if you have an ISO, but the best to burn a Blu-Ray Drive is to use software that supports it or offers a profile that ensures it can properly burn the format. If you have a drive, you can create a copy directly using the disc and the software.
Can you plug a Blu-ray player into a PC?
If your Monitor has an HDMI-in port, then you should be able to connect the Blu-ray player to it, and then switch the HDMI port. It should now stream the content as it would do on TV or any other display. That said, while you can connect to PC, but in a way, you thought.