Working with PDF files is always good because it is such a great format. But, nowadays when you are dealing with so many PDFs you often need to edit them or convert them into some other format. However, to convert and extract your PDF files is not at all convenient, and that's where you have to use a converter such as PDF Shaper which performs a variety of PDF-related functions. PDF Shaper lets you batch convert .PDF to .DOC, extract specified elements such as text, tables, and images, format output documents, etc.
PDF Shaper review
PDF Shaper is a freeware for Windows, that allows you to merge, split, encrypt and decrypt PDFs, convert images to PDF, convert PDF to RTF or images, extract text and images from PDF files. The highlight of this freeware is that it converts your .PDF files to .RTF format, so that you can edit the documents using Microsoft Word or other RTF supported processors.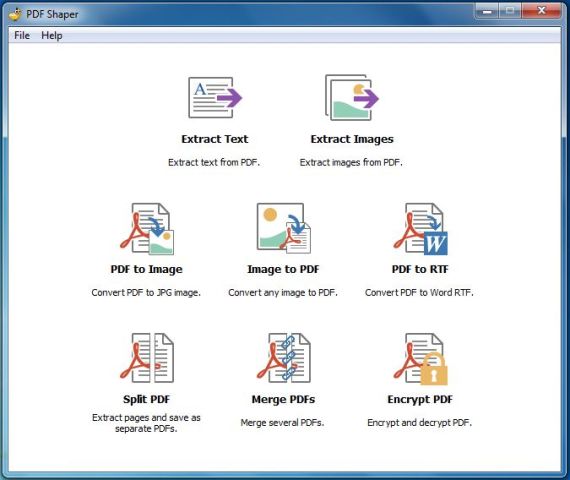 PDF Shaper lets you manage, convert, extract elements from PDF
PDF Shaper is an application that gets installed really quickly on your Windows operating system. The user interface of the application is very simple to understand and easy to use. You do not require any prior knowledge in order to use this freeware.
After installing the software, on the application window, you will find PDF converter and extractor tools which include:
Extract Text – It helps you to extract your text from the PDF documents.
Extract Images – This function is the same as extract text but only for images.
PDF to image – It turns a PDF file into JPEG images.
Image to PDF – You can select images from your collection and this function will convert all your images into a single PDF document.
PDF to RTF – Convert your PDF file to the Word RTF format.
Split PDF – Extract pages from a PDF file and this will save them as a separate file.
Merge PDFs – Combine multiple PDF documents into a single file.
Encrypt PDF – Encrypt (encode) or decrypt (decode) PDF files.
 Almost all tools of the PDF shaper work in the same way and you can select any of the functions you want to use from the application window itself.
Suppose you want to extract images from your PDF document then you can start by clicking onto the "Extract Images" option.
This will open one another window where you need to put the source (PDF file from where you want to extract the images) and destination (where you want the images to be saved).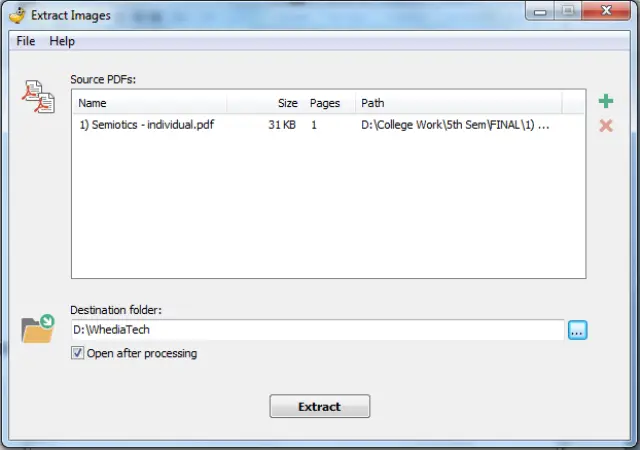 3. After adding the source and destination you can click on the "Extract" button to save the images. You can also click on the checkbox (Open after processing) if you want to open your saved images.
Likewise, if you want to extract text or perform some other features, then with PDF Shaper you can do your work very easily and efficiently. There is also a help button on top of the window to guide you during your work.
Features of PDF Shaper
You can drag and drop your PDF files into the converter
You can specify the pages that you want to convert
Multi-page conversion
Recognizes several types of font encoding
Super easy to use interface
Supports batch file conversion
Converts tables and columns
Detects numbered and bulleted lists
Conclusion
The freeware works exceedingly well when it comes to converting PDFs to text. However, there is a problem with advanced formatting and it did seem to be having issues maintaining the original appearance after converting. I could make out that there is a quality and functionality issue when you convert a PDF file with images and tables to the word. So for me, if you are looking for just a simple text conversion, PDF shaper could be the application you want to use, other than that I would rather use some other freeware.
PDF Shaper free download
You can download the freeware from here. It is the 7.75 MB software that can run on any Windows OS (32 bit and 64 bit). But a word of caution!  During installation, the freeware asks to install other third-party applications.
Even though the installation of these components is optional readers are advised against installing them as they are not necessary. You may want to, therefore, uncheck the checkboxes.