When you choose to change the email and password for your Microsoft account, OneDrive may fail to pick up the change and see the following error message – You're syncing a different account on your Windows or Mac computer. Here's what you can do to fix the problem.
You're syncing a different account OneDrive error on Windows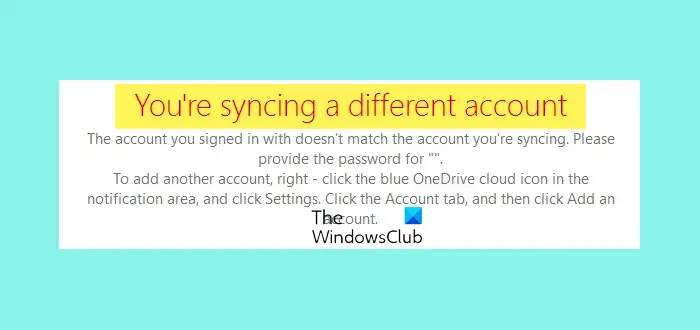 In addition to the above message, you will see the description:
You're already syncing a personal OneDrive on this computer. Unlink that account to add a new one.
As mentioned above, this error occurs mainly after you change your Microsoft Account password. To fix this error:
Open Credentials Manager
Remove OneDrive cached Credentials
This isn't anything new and keeps occurring at regular intervals. Let's see how to go about and resolve the issue.
1] Open Credentials Manager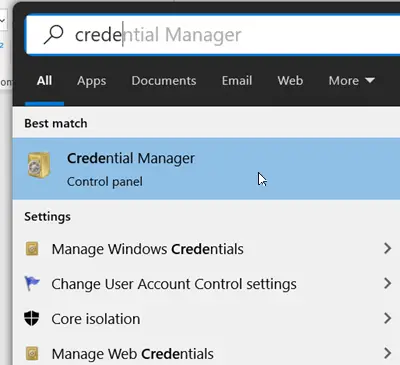 Click Start, type 'credentials' in the Search box and then select 'Credentials Manager' when seen in the list of options.
Next, switch to 'Windows Credentials' tab.
Read: How to fix OneDrive sync issues?
2] Remove OneDrive Cached Credentials
When the 'Windows Credentials' menu expands, go to 'Generic Credentials'.
Here, look for any entries containing 'OneDrive Cached Credentials'.
Hit the drop-down arrow adjacent to this option and choose the 'Remove' option to remove it.
When done, restart OneDrive and check if the problem persists.
Please note that you won't lose files or data by disabling or uninstalling OneDrive on your computer. You can always access your files by signing in to OneDrive.com.
If this workaround doesn't resolve the issue or fails to yield the desired result, kindly uninstall and reinstall OneDrive.
When OneDrive Setup starts, enter your personal account or your work or school account, and then select Sign in.
You're syncing a different account OneDrive error on Mac
If you are trying to upload or synchronize files on your Mac computer through OneDrive cloud storage, and you receive You're syncing a different account error, here is the fix that you need to follow. It is quite easy to get rid of this problem since you need to remove the old account's saved password from the Keychain Access. This article shows the exact steps to get it done.
If you use two OneDrive accounts on your Mac computer, there is a possibility of getting this error message when OneDrive cannot differentiate both accounts correctly. It can happen due to internal file corruption. When this message appears, the synchronization stops automatically, and users cannot upload new files to the OneDrive storage.
To resolve this issue:
Press Cmd+Space on your computer.
Search for keychain access.
Open the corresponding app on Mac.
Search for OneDrive Cached Credential or OneDrive Standalone Cached Credential.
Right-click on it.
Select Delete
Confirm the removal of this password.
Open OneDrive to log into your account.
Let's take a look at these steps in detail.
At first, you need to open the Keychain Access on your computer. You can follow any method to do that. However, it is effortless to open this app using the Spotlight search. For that, press the Cmd+Space buttons together and search for keychain access. You should find the app in the results as you type.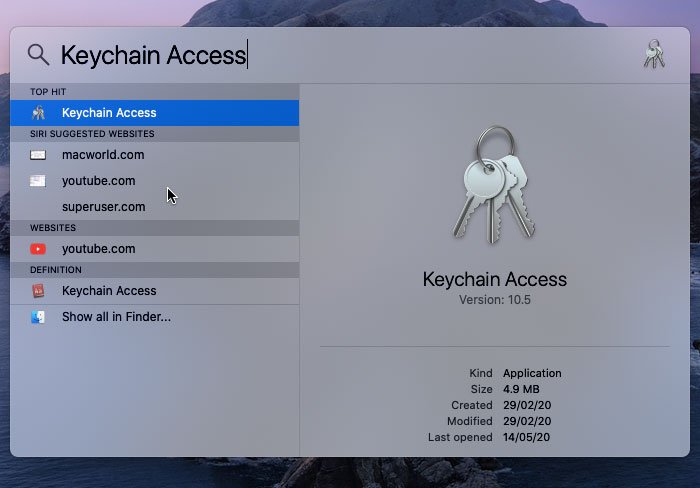 After opening the Keychain Access, you need to find either OneDrive Cached Credential or OneDrive Standalone Cached Credential.
If you installed OneDrive alongside the Word, Excel, PowerPoint, etc., you should see OneDrive Cached Credential.
However, if you installed only OneDrive on your Mac computer, you should see OneDrive Standalone Cached Credential.
In any case, you need to right-click on it and select the Delete option.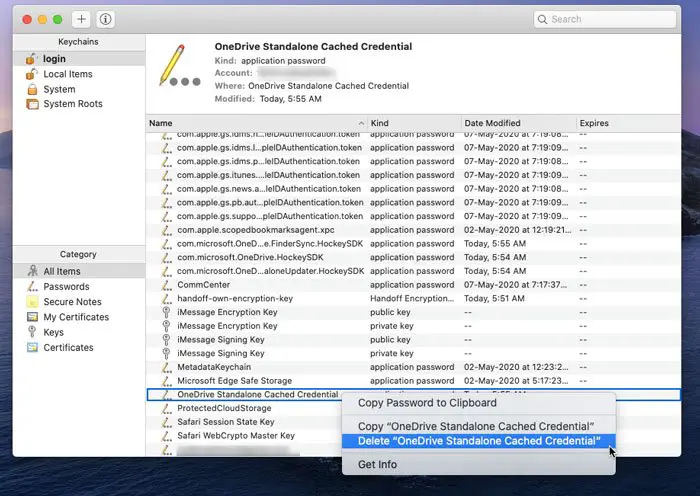 It will ask you to confirm the removal. You can confirm it on the popup window.
After completing the last step successfully, you can open the OneDrive app on your Mac computer and try to log into your account. Now, you should not show any error message, and you can upload files as usual.
I hope this tutorial helps.
Related read: You're already syncing this account – OneDrive for Mac error
We hope these suggestions help you resolve the OneDrive sync error on Windows and Mac computers.