Office 365 from Microsoft is designed to make your work easier, but the overlapping services and applications often make it confusing. Most of the users don't know what Office 365 is and what all it provides. Office 365 is broad and offers much more than Word, Excel, PowerPoint, and Outlook, and this wide range of offerings makes it puzzling. Most of the services do the same thing which makes the users confounding.
Office 365 Periodic Table
(Click to see larger image)
To solve all your confusion and help you with the Office 365 apps and services, a SharePoint geek has created an interesting Periodic Table of Office 365 making things easier and clearer for you.
As the chemical periodic table is a graphical arrangement of chemicals with their details like atomic numbers, the Office 365 Periodic Table displays the services and apps in a systematized manner. The periodic table is a simple overview that helps users understand Office 365 well. It is a graphical representation showing what all apps are included in Office 365 and how they are related to each other.
The detailed periodic table of Office 365 displays everything available in the Office 365 ecosystem along with a short tagline of what each application does. The services and applications are very well categorized in different categories-
Enterprise Video- Stream, Video
File Storage & Collaboration- SharePoint Online, OneDrive for Business and Delve.
Forms- Forms and PowerApps
Outlook-Mail, Calendar, People, Tasks
Chat & Conferencing- Skype for Business, Teams
Presentations- Sway
Office Online-PowerPoint, OneNote Online, Excel Online, Word Online
Business Application Platform-Power BI, Flow
Project Management- Project Online, Planner
Small Business Applications- Staff Hub, Bookings
Task Management- To Do, Tasks, Planner
Social Networking- Yammer, Newsfeed
Employee Profiles- Delve, People
Each category incorporates the correct application of service of Office 365 thereby helping you to understand the program easily and explain it further.
The Office 365 Groups provide easy access to your online workspace and help you connect and communicate with employees, colleagues to work together on a project. You can read more about it here.
Microsoft Periodic Table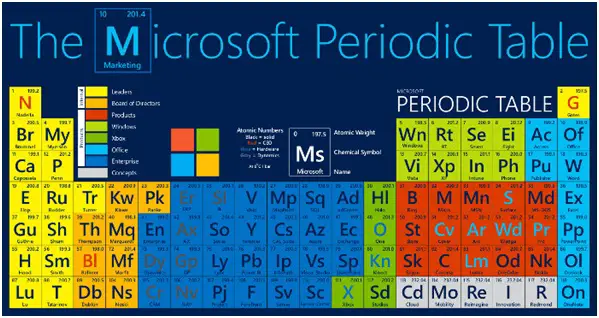 The Microsoft Periodic Table looks strikingly similar to the Mendeleev's Periodic Table. The Microsoft table, consists of an elemental view of Microsoft's structure, instead of the chemical elements. The table represents various details about the organization as a whole; which includes names of important people associated with Microsoft and its various products under different categories. Information about symbols and color codes is also mentioned at the top of the table.
The table consists of names of leaders, boards of directors, Microsoft products, Windows products, Xbox products, Office products, Enterprise products, and concepts. Each cell consists of a 'chemical symbol' representing these names. The periodic table also mentions the color codes for these chemical symbols, such as red for CEO's names (Nadella, Gates and Ballmer), blue for hardware products and gray for Dynamics products. The upper right corner of each cell has the 'atomic weight' of the element; which is actually the year for which the particular product was established. For the people, this number represents the year from which the particular person started its association with Microsoft. (E.g. 199.2 for Nadella).