NVIDIA GeForce Experience helps maintain the GPU drivers up-to-date, optimize game settings automatically for best performance, and capture in-game video. People who prefer gaming with graphic cards from NVIDIA will find GeForce Experience a welcome addition. However, some users report getting Error Code 0x0000F004 when trying to stream games through cloud gaming services. If you are experiencing the same problem, you may find this guide helpful in solving the NVIDIA GeForce Experience error on your Windows computer.
The error message you receive when you encounter this problem is as follows:
There was a problem starting your session. Try again.
ERROR CODE: 0x0000F004
Fix NVIDIA GeForce Now Error Code 0x0000F004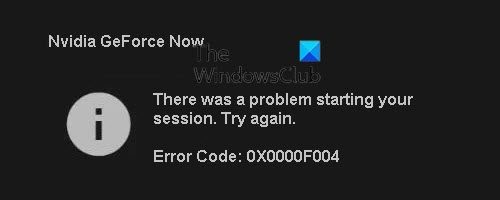 In this article, we will look at solutions to fix the error 0X0000F004 with NVIDIA GeForce Experience on Windows PC. Before you go through the steps, we suggest you restart your computer and launch GeForce Experience to see if it works. If the error continues, try the below suggestions in the following section to resolve the issue.
Relaunch the GeForce Experience
Check GeForce Now Service status
Check for Windows Update
Check the NVIDIA Display Driver Services
Allow all GeForce Experience related services
Update the NVIDIA graphics driver
Reinstall GeForce Experience
Let's now see them in detail:
1] Relaunch the GeForce Experience
GeForce Experience is a software program provided by NVidia Corporation, which is susceptible to errors just like any other program. Most of the time, relaunching the application will usually fix the problem. You can also try running the GeForce Experience as an administrator and see if it resolves the issue.
2] Check GeForce Now Service status
The next thing you should do is make sure NVIDIA isn't dealing with a server issue that may interfere with the GeForce Now cloud gaming service. If you are experiencing this issue, visit the GeForce Now server status page and check if there is any red flag that indicates a server problem.
If you find that NVIDIA Global Services has a problem, you can probably do nothing about it. In that case, you have no choice but to wait for the developers to fix the issue. However, if the status page does not list any server problems, you should move on to the next suggestion.
3] Check for Windows Update
Sometimes Windows Updates can also lead to such types of issues. In that case, you can navigate to the Settings app and see if the NVIDIA driver service needs to be updated. To do this, follow these steps:
Press the Windows key + I to open the Settings app.
Click on Advanced options in the right pane.
Scroll down to the Additional options section and click on Optional updates.
Click on Driver updates to expand it, so that you can now check if an NVIDIA driver update is available.
Once you have found the update, be sure to install it and restart the program.
Check to see if the problem has been resolved.
4] Check the NVIDIA Display Driver Services
This solution requires you to check the NVIDIA Display Driver Services and make sure they have the following Startup types in Services Manager:
NVIDIA Display Container LS – Automatic
NVIDIA FrameView SDK service – Manual
NVIDIA GeForce Experience Service – Automatic (Delayed Start)
NVIDIA LocalSystem Container – Automatic
NVIDIA NetworkService Container – Manual
5] Allow all GeForce Experience related services
GeForce Experience relies on a number of services for it to work properly, and all of them must be allowed to fix the problem. To do this, follow these steps:
Right-click on Start and select the Run command
Type services.msc in the text box and press Enter
Scroll down through the list and find NVIDIA Telemetry Container in the list.
Once found, right-click on it and select Properties.
From the Properties window, select the Log On tab.
Click Local System account and then check the box next to Allow service to interact with desktop.
Next, click on the General tab and make sure the Service status is Running. If it isn't, click on the Start button.
Select Apply and then OK to save your changes.
Similarly, locate and ensure the following NVIDIA services are running in the Services list.

NVIDIA Display Container LS
NVIDIA LocalSystem Container
NVIDIA NetworkService Container
In case you find an NVIDIA service not running, right-click on it and click on the Start button.
6] Update the NVIDIA graphics driver
You may also experience this issue if your graphics drivers are corrupted or outdated. Therefore, if the issue persists, you should update the NVIDIA graphics driver and check to see if it has been fixed.
7] Reinstall GeForce Experience
This method requires you to uninstall GeForce Experience and reinstall it from its official website. To do this, follow these steps:
Right-click on the Start button and select Apps and Features from the menu list.
Locate GeForce Experience and click on the three dots next to it.
Click on the Uninstall button and follow the instructions on-screen to complete the process.
Once you have uninstalled the application successfully, you need to download the application from the NVIDIA website and reinstall it.
What is GeForce Experience?
GeForce Experience keeps your GPU drivers up-to-date, optimizes your gaming settings for smooth gameplay, and lets you record gameplay videos. The app gives you an easy way to share the video game memories you make with your friends.
Does NVIDIA GeForce now offer free gaming?
NVIDIA GeForce now provides one of the most reliable game streaming services available on the market. However, the service is not free; you will need to pay a premium if you want the top-tier experience.
Related: Fix NVIDIA GeForce Experience Error HRESULT E_FAIL.