We have earlier posted about Miro Media Player. Miro Video Converter is another open-source free software from the same developers, which allows you to convert your video and audio files quickly from one format to another. If you are not a geek and you don't understand the formats supported by your device or any PMP, you will still find using this software easy-to-use, as it will show you a list of devices and you can select your device from that list.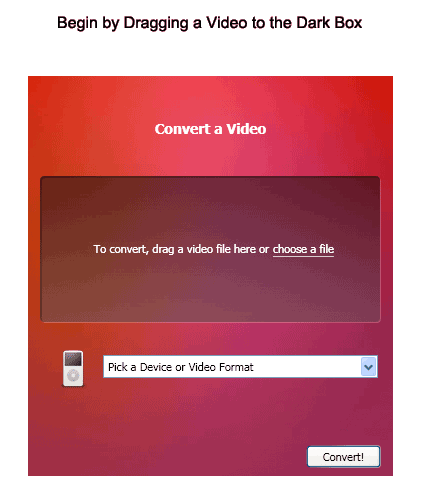 Miro Video Converter for PC
Here is the list of devices supported by Miro Video Converter:
Android Phones
Droid / Milestone
Nexus One
G1
Magic / myTouch
Droid Eris
HTC Hero
Cliq
Behold
Apple Devices
iPhone / iPod Touch
iPod Classic
iPod Nano
iPad
Other
This is really very simple to use for anyone who just wants to convert video with a minimum of hassle. The drag and drop feature of Miro Video Converter is really awesome as it decreases your effort. You just have to do is to drag in your video file that you want to convert and set the video format and click on Convert. That's all you need to do. Your file will be converted in the shortest time possible and the converted file is left in the same folder from where you have selected your original file.
It supports all major formats such as .AVI, .MP4, .FLV and many more. You would never get any problem with a conversion for devices by Miro Video Converter.
If you want a way to get a good range of video formats ready for your mobile device or PMP, this software is perfect. Among many other options, it will let you convert to MP4, Ogg Theora, WebM, and many other formats.
Pros of Miro Video Converter that you would like:
It is very easy to use
Many Presets for different devices
Fast Conversions
Cons of the software that you may not like:
No advanced options or settings
No built-in Player
One conversion at a time.
You can download Miro Video Converter from here.
Which is the best free video converter for PC?
As different apps come with a different set of options, you cannot mar something as the best for this purpose. However, if you need an open-source video converter, you can check out Miro Video Converter. It is available for Windows 11, Windows 10, and some other older versions of Windows.
What is the best free online video converter?
APowerSoft is one of the best and free online video converters you can use on your browser. Whether you want to convert from MP4 or to MP4, you can use this app to get the job done. Although there are some limitations in terms of options and features, it comes with almost all the essential options.