Microsoft Teams is an ultimate chat-based collaboration and communication tool from Microsoft Office 365. Microsoft Teams has been seamlessly integrated into the Office 365 productivity suite and features the capabilities of meetings, chats, notes, file sharing, and various Microsoft and non-Microsoft extensions. Simply put, this platform brings simplicity to teamwork by allowing sharing, collaborating, and communicating – all under one single window; something that is imperative in the current WFH (work from home) set-up.
Now, on Windows 10, it is important to keep the applications up-to-date to cover security vulnerabilities and access new features and improvements. Microsoft Teams is capable of updating automatically, but sometimes it will not. If your Microsoft Teams is not updating automatically, then this guide will help you to fix this issue.
According to Microsoft, the Teams application is premeditated to automatically check for new updates, all that is needed here is to ensure that your system is connected to a stable network. But, if Teams is not behaving the way it is supposed to there could more than one reason, these include:
Teams app installed in the 'Programs Files' folder – If Teams is installed to the Program Files folder instead of its default location, the client will not mechanically update when new versions are available.
Teams app not idle for enough time – Microsoft Teams runs update only when the application is left idle. If the user turns the computer off when finished using Teams, the application will have to way to run and complete the update process.
Ultimately, if the Teams app is not updating automatically you will be left with an older version.
Microsoft Teams not updating automatically
You can carry out the following steps to update the Teams app either manually now, or automatically henceforth:
Reinstall the application in the default location
Update Teams client app manually
Teams will now check for the latest updates and install them
Here is a detailed explanation of these solutions.
1] Reinstall Teams in the default location
Windows will not auto-update new updates for Microsoft Teams when the app is installed to Program Files using installation scripts rather than to the default location. To ensure Teams automatically update, the user will need to move or re-install the application to the default location i.e. user\Appdata.
If Teams is in the right place in Windows and you are connected to a stable network connection, the app will be able to automatically download updates in the background and install them.
Read: How to close Microsoft Teams completely and exit out of it.
2] Update Teams client app manually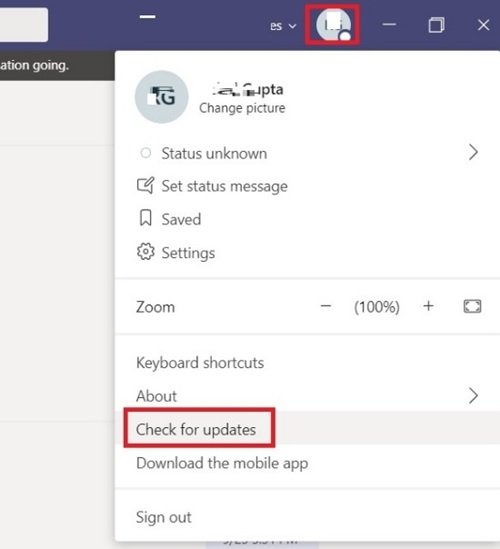 If the above solution didn't work and you are seeing that the Teams app is still not updating automatically, you can force it to manually check and install updates. Follow these steps:
From the 'Start Menu' go to the Microsoft Teams app.
Now click on your Profile Picture that appears at the right corner
Hit 'Check for updates'.
3] Teams will now check for the latest updates and install them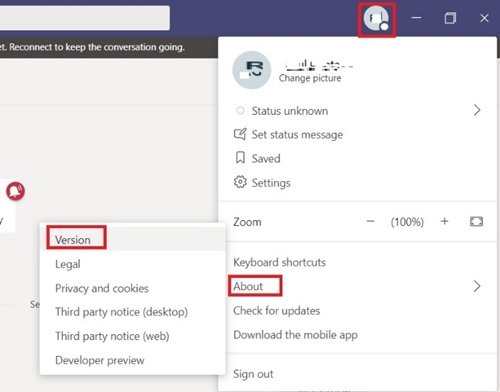 Do not exit the application until the installation is complete. To confirm that the new updates are installed click on About > Version.
Owing to the current situation, we all know how important the Microsoft Teams app is.
We hope this blog helps you in keeping it updated at all times.