When installing a security update on your Windows PC, if you receive an error saying that Microsoft can't install important security updates Error Code 0x800703ed or 0x80072ee7 on your Windows 11 or Windows 10 computer, then this post will help you resolve it. It may usually happen when you have a security update available before a standard update, but Windows Update would not install the security update until you install the newer update.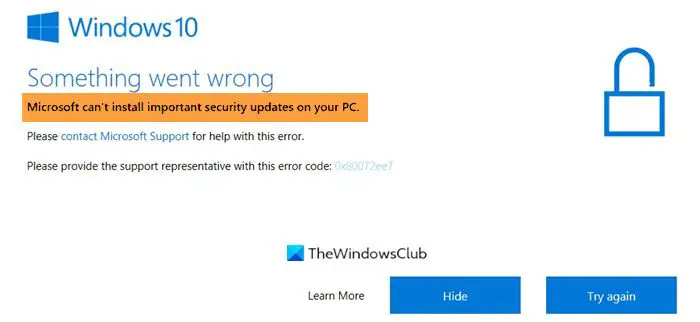 The exact messages from Windows Update could be one of these:
Windows cannot finish security update before your PC updated to a newer version of Windows
Microsoft cant install important security updates on your PC
What is happening here is that the security update may have already been installed with the newer version. However, the update is still available as it was downloaded earlier.
Microsoft can't install important security updates
While Windows should automatically remove the update, if it stays as Pending Install or keeps showing up, you need to reset the Windows update so it can be removed.
Run Windows Update Troubleshooter
Delete Update Cache
Restart Windows Update Service
You will need admin permission to resolve the issue.
Fix Windows Update Error 0x800703ed or 0x80072ee7
1] Run Windows Update Troubleshooter

Windows comes with its own set of troubleshooters. Windows Update troubleshooter is available at Settings > System > Troubleshooter > Other Troubleshooters. It will execute a set of commands that will restart the Windows Update service and other related components when you run it. If there is an error found, a resolution is usually offered.
2] Delete Update Cache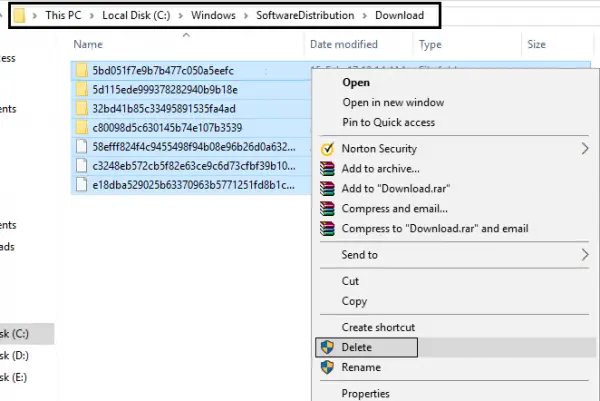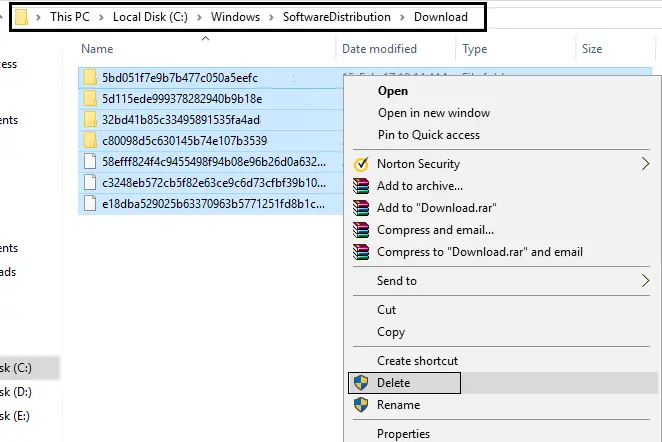 The updates are first downloaded in a local folder in Windows and then installed. If the update cannot be applied but stays there, it will keep resulting in an error. If you delete everything from the folder, Windows will then download whatever is required. It will give an excellent chance to resolve the problem.
Open Windows Terminal and execute the mellow mentioned commands. Ensure you are using an admin account to complete this.
net stop wuauserv
net stop cryptSvc
net stop bits
net stop msiserver
Ren C:\Windows\SoftwareDistribution SoftwareDistribution.old
Ren C:\Windows\System32\catroot2 Catroot2.old
net start wuauserv
net start cryptSvc
net start bits
net start msiserver
3] Restart Windows Update Service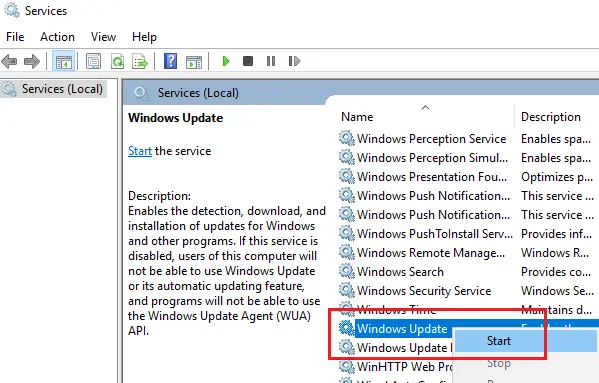 While Windows Update troubleshooter automatically restarts the update service, you can also try doing it manually.
Open Run Prompt using Win + R
Type services.msc and press the Enter key
In the Services window, locate Windows Update and Windows Update Medic service.
Right-click on it, and choose to Restart
Once done, check if the update is still available.
When the Windows Update service is restarted, it will verify downloaded updates. If they are invalid, they are removed after some time. So once you restart, wait for a few minutes and check back if the issue persists.
Related: Your device is at risk because it's out of date & missing important security & quality updates.
What happens if you shut down your PC during an update?
Microsoft strongly recommends not to turn off the PC when an update installation is in progress. If the PC shuts down, then not only will the installation remain incomplete, it is also possible that some files may get corrupt. If Windows doesn't register or figure out the corrupt file, then the system may misbehave.
What If my PC doesn't work as expected after an update?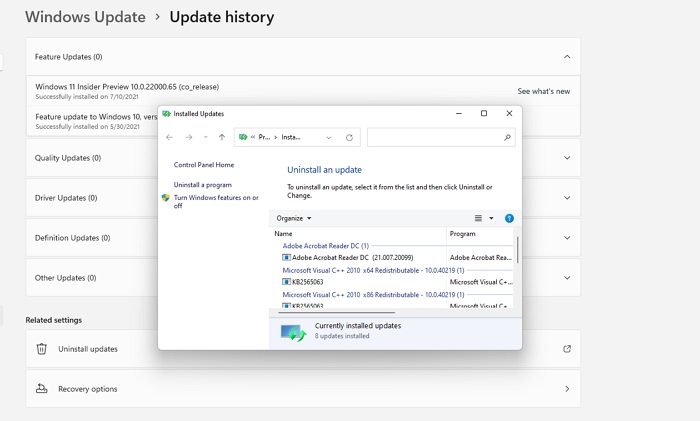 If your PC starts misbehaving after a recent update, then you can uninstall it. To do that, you need to go to Windows Settings > Windows Update > Update History and scroll down to find Uninstall updates setting. It will open another window to sort the updates by installation date and then choose the recently installed update.
I hope the post was easy to follow, and you were able to fix the Windows Update Error. It is usually a temporary issue and should resolve on its own, but if it persists, you can always delete the content of the update folder, and let Windows fix the problem.