Microsoft has made available for download the Microsoft Azure Import Export Tool that offers an easy way to import large amounts of on-premise data into Windows Azure Blobs or export your Windows Azure Blogs to you!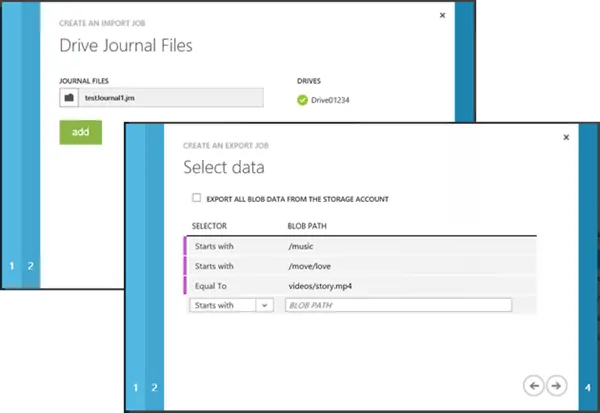 Microsoft Azure Import Export Tool
The Microsoft Azure Import Export Tool is a drive preparation and repair tool you can use with the Microsoft Azure Import Export Service. You can use this tool to carry out the following functions:
Use this tool to copy data to the hard drives you are going to ship to any Microsoft Azure data center before you create an Import job
Use it to repair any blobs that got corrupted, went missing, or conflicted with other blobs, once the Impost job is completed
Use it to repair  files that got corrupted or went missing on the drives, after you receive the drives from an export job
Using this tool, you can transfer large amounts of file data or data resident to Azure Blob storage whenever uploading over the network is expensive or not feasible. Such transfers to your on-premises installations are cost-effective and efficient. You can create and manage import and export jobs by using:
Azure Management Portal.
REST interface to the service.
If you plan to transfer large sets of file data into Blob storage, you can encrypt and then send one or more hard drives containing that data to the Azure data center, for uploading it to your storage account. Send empty drives if you plan to export data from the blob storage. The tool can help you in such scenarios. Go here for a detailed read on how to use the Azure Import Export Service to Transfer Data to Blob Storage.
You can download the Microsoft Azure Import Export Tool from the Microsoft Download Center.
It supports Windows 11, Windows 10, Windows 8, Windows 7, Windows Server 2008 R2 and Windows Server 2012, and requires the .NET Framework 4.
Read: Microsoft Azure Storage Explorer explained.