If you need to view and export technical and tag data of multiple video and audio files on Windows, you can check out this free software called MediaInfo. This free software lets you display the metadata in various formats, including text, HTML, etc.
MediaInfo for Windows PC
MediaInfo comes with only two primary options. The first functionality is for those who want to check the metadata of multiple video and audio files in bulk. The second option allows you to export the technical and tag data of those opened files in various formats.
Some people want to get the data in plain text, whereas others may want to export the data in HTML, spreadsheet, XML, JSON, or any other format. All these options are available in this utility, and you can use them for any number of files.
What data does it show?
You can find every possible information about a file on your screen. That includes count of video/audio stream, kind of video/audio stream, video format, video codecs, sound codes, codec ID, codec info, format profile, format settings, file size/duration, bit rate, frame rate, stream size, header/footer size, encoded date, tagged date, file creation date, source duration, and many more.
Supported file formats:
It supports container, tag, video, audio, and subtitle. For your information, you can work with all the standard formats, including SRT, SSA, SAMI, MPEG-1/2 Video, H.263, Id3v1, Id3v2, Vorbis comments, AVI, MPEG-PS, etc.
Use MediaInfo to view & export technical data of media files
MediaInfo displays technical and tag data for video and audio files. To use this software, you need to follow these steps-
Download and install MediaInfo
Import file/folder
Change view format
Export
You need to download and install this software from the official website. After downloading, installing, and opening it, you will see the following UI-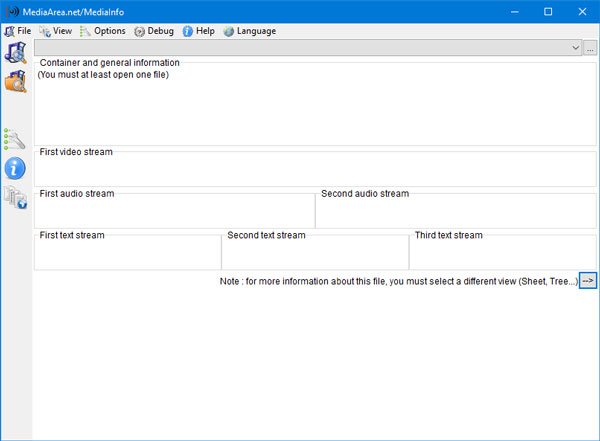 To import a file/folder, go to File > Open > File/Folder. After choosing the file or folder, you can see all the data on your screen. By default, it shows data in the basic text, which might not be good for you. You should change it to HTML for better convenience. To do so, click the View button and select a different format.
To export the data, go to File > Export. After that, you need to choose the export format, location to save the file, etc.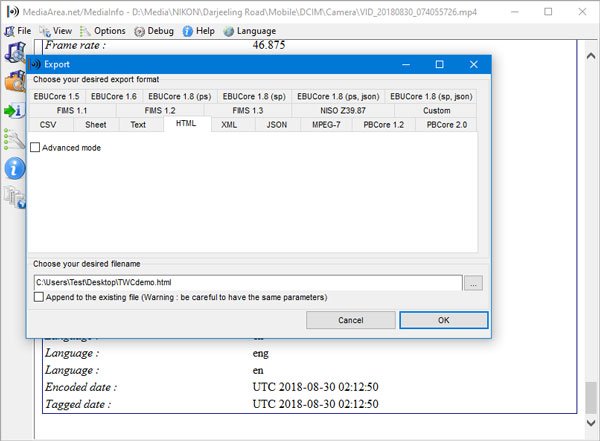 MediaInfo is a great free tool to use if you want to view and export technical data of video and audio files.
If you like it, you can download MediaInfo from the official download page.
Read next: How to create a Video from Image sequence in Windows.