Ever since the lockdown, the loan apps and news around them have increased. Most of them are bad news. Many people died by suicide due to the threats and harassment of the collection agents from those Chinese loan apps. In this guide, we explain what they are and how they operate in India. Please go through the article to learn more about Chinese loan apps in India and the measure you have to take to stay away from them.
Chinese loan apps in India: Think before you take a loan
Let's see what the Chinese loan apps in India are and how they operate.
1] What are Chinese loan apps in India?
There are many easy loan apps available on Google Play Store and App Store that offer loans within minutes of applying. They come with tempting offers, and they do not care about the credit score of the users while giving out loans. While giving the loans, they set a payment term and the user has to pay the loan by that time. If not, the interest and penalties make the loan much bigger and those exorbitant rates make it hard for the user to pay them back.
Even the loan sharks outside do not charge the amount of interest these Chinese loan apps charge. People who are in need get tempted by these easily available loans and get stuck with them for months. The names of these loan apps seem catchy and they are not backed by any major financial institutions in India that we trust.
India has already banned more than 600 Chinese loan apps, and the Govt has asked law enforcement agencies to take strict action against Chinese loan apps. However, new ones with new names continue to mushroom, and it is very difficult to trace the lenders.
2] What data do the Chinese loan apps collect from users?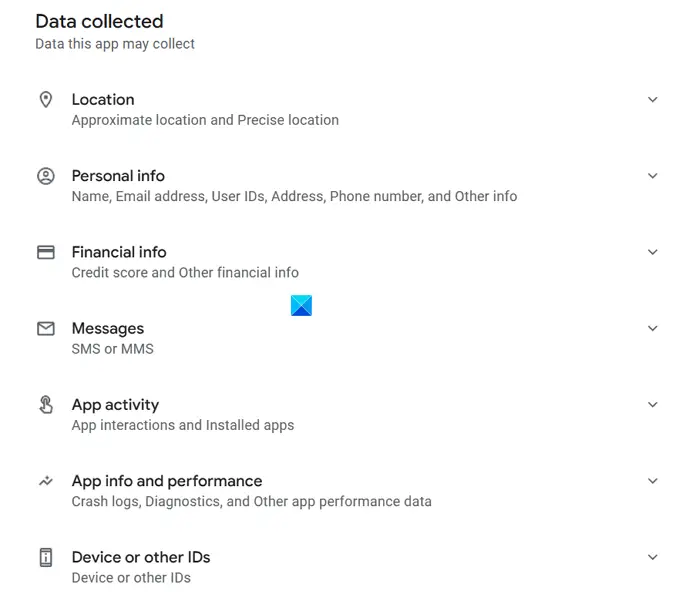 The loan apps, with their catchy headlines and easy approval process to get loans attract a lot of desperate users to sign up and get loans from them. While giving loans to users, they collect a lot of data from users. That includes location, personal information like name, address, contact details, contacts stored on your phone, SMS, apps on your phone, images, videos, and other personal data stored there, etc.
The data is uploaded as soon as you give permission to the app to access your phone. Without giving permission, you cannot access the app and avail of a loan from them. They bank on the user data and give out loans.
3] What is the Chinese loan app interest rate in India?
The Chinese loan apps can charge you approximately Rs 200 per day for a, say, Rs 1.00 lakh loan. Recently, some apps were found to charge an interest rate of over 2000% pa!
4] How do the Chinese loan apps recover amounts? Harassment explained
When a user fails to pay the loan or EMI on time, they start harassing the users with threatening messages and calls. That includes sending fake and edited legal notices, court proceeding documents, and fake FIRs on the user name.
Not only that, they even create WhatsApp groups with the contact numbers collected from the user while taking the loan by claiming the user fraud and defaming the user. They start calling the people from the user's contracts and threaten them to make the user pay. The agents from the Chinese loan apps resort to any way they can defame the user and make him pay as early as possible within hours.
Some of them go beyond humanity and create morphed naked images of female members of the user's family and threaten the user to share them with the user's friends and all the contacts on the user's phone. Many people around India have died by suicide with this kind of harassment.
Even if you go to a police station, it will be of no help as the recovery agents are faceless and cannot be tracked that easily. They will not fear the police or anything until they pay the last penny of the loan, including the huge interest and penalties they add to the principal amount. There is really no other choice other than paying them and getting rid of them.
In 2022, they even called a cabinet minister of Andhra Pradesh state in India and threatened him to pay the dues of some users who had the minister's contact details on the phone. They even threatened the minister with repeated phone calls and messages.
Never search for instant loans on your devices, and fall prey to these Chinese loan apps.
List of Chinese loan apps banned in India
These are some of the main Chinese loan apps banned in India:
Cash magic
Cash Park
Honey Loan
Hoo Cash
Insta Loan
Insta money
Jasmine Loan App
Just Money
Loan Sathi
One Loan Cash Any Time
Paisawala
Pokemoney
Quick Loan App
Rocket Loan
Volcano Loan
Wen Credit
Rush Loan
Simple Loan
Sugar Money
Sun Cash
However, the list keeps increasing!
Can I take a loan from loan apps in India?
Yes, you can, but please don't! Never take a loan from loan apps in India. Go to your bank and find ways to get credit or someone you know. Loan apps are more dangerous than loan sharks, and you might even lose your life if you miss a payment. Don't even install the loan apps on your devices and initiate signup.
Are loan apps safe?
Normally speaking, they are not safe as they collect a lot of user data and charge hefty interests and penalties that you cannot even imagine. They can be used for financial scams and identify theft practices and make the user's life hell. Stay away from them.