If you want to make a meme with your own picture or video or resize video online for various social networking websites or add sound effects to your video, here is an online tool that will let you do all the thing mentioned. Kapwing is an online Meme Maker & Generator tool that helps people to make things easier.
Kapwing Meme Maker & Generator tool
You can create a meme with your own picture or video with the help of Kapwing. It supports regular PNG or JPG image, animated graphics or GIF and standard video files and it doesn't reduce the image quality significantly after downloading the finished product. Talking about supported video files, you can use MP4, MOV and AVI files.
Make a Meme online
To get started, you need to visit the Kapwing website and switch to Meme Maker. If you have the image or video on your mobile or PC, you can upload it. Otherwise, you can paste the exact video or image URL so that it can fetch the file.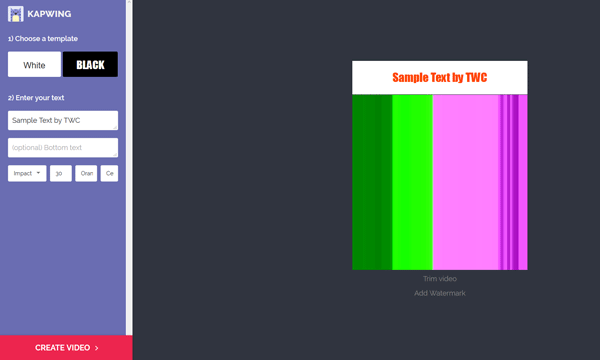 In the next step, you can add text at the top and bottom. Apart from that, you can choose the template (White/Black), font, font size, etc. After completing everything, you need to hit the CREATE VIDEO button, which leads you to generate the video/image file. Following that, you can download it to your PC or mobile. You can also get a direct link in case you want to share it with someone quickly.
Resize video for Instagram, Facebook, YouTube, Twitter & Snapchat
If you use social networking sites a lot, you might have noticed that different sites have different dimensions of image and video. For instance, Instagram uses 1:1 or square picture and video, whereas YouTube prefers 16:9 aspect ratio.
If you have a video and you want to upload it to different social networking sites, you should use this tool to resize the video for various sites. Switch to Resize Video tab. Like the Meme Maker, you can either upload your video from your PC, or you can paste the video link. Either way, you will end up with some options like these-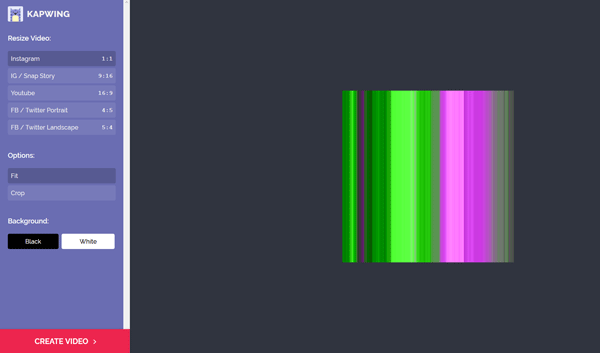 Here you can choose the social networking site, background color in case you need to use Fit or Crop option. Finally, you should hit the CREATE VIDEO button that will let you download the video that you have resized.
Add sound effects to video online
If you have raw footage and you want to add various sound effects to your video, you can make use of this tool as well. Head over to Sound Effects tab of Kapwing and choose a video that you want to add sound effects too. After that, you can select an effect as per your requirement. Although the list is not that huge, it has some cool effects.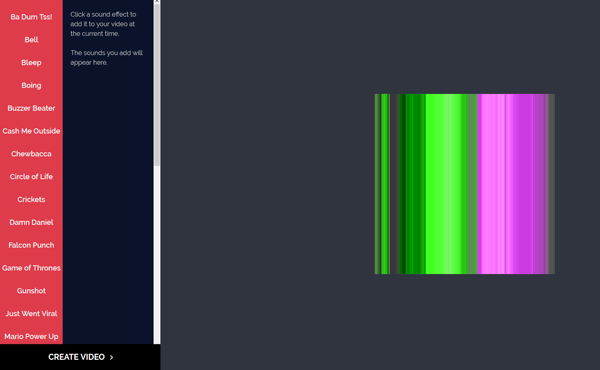 Finally, you would be offered the option to generate the video and download it to your PC.
If you think you may have a use for such a tool, you can visit the Kapwing homepage and check it out. The free plan will place a watermark.
Is Kapwing video editor free?
Yes, the Kapwing video editor is available for free. Although it has several limitations, you can do basic editing on the Kapwing online tool. Whether you need to trim the video, cut a specific part, change the audio, or merge two videos, you can do everything with the help of Kapwing. It also offers a range of free music and sound effects to add to your videos. Kapwing offers paid plans to unlock advanced features such as pro audio, advanced text options, and more.
Is there a time limit on Kapwing?
Kapwing Pro creators are limited to exporting videos up to 60 minutes in length. Attempting to export a video longer than this will prompt the user to trim the length. This restriction is due to technical considerations. However, Kapwing Pro offers more tools and features that help you edit efficiently and make more professional content. You can still create 1080P videos with access to all AI editing tools, a Brand Kit, and custom fonts.
That's it! I hope it helped.