When the error JavaFX application could not launch due to system configuration occurs, then it may be caused due to your browser. Nowadays, Internet Explorer is the only browser with support for Java plugins. Many Java issues are related either to the Java version installed on your computer or to the cache. Therefore, errors related to the JavaFX application may appear in your browser.

JavaFX application could not launch due to system configuration
With the following steps, you can try to rectify this error.
Clear browser's cookies and cache.
Check Java Security settings.
Clear Java's temporary files.
Use another browser.
We can have a look at a better breakdown of these steps below-
1] Clear browser's cookies and cache
Launch your web browser and clear all the cache, cookies, history, etc.
These posts will show you how to clear the cache in Edge, Firefox, Chrome.
To do it in Internet Explorer, open Internet Options.
Search for Browsing history and then click on the Delete button.
Select all the boxes and click Delete.
Now once you have performed these stated above, close the Internet Options window and open your browser again.
2] Check Java Security settings
To do this, first, go to Control Panel. Then adjust the view to Small Icons from the upper right side.
Scroll through, look for and click on Java.
Next, go to the Security tab and change your security level from High to Medium or from Very High to High, depending on your Java version.
When that is done, tap on Edit Site List to add the website to the Exception Site List. Use the Add button and type the complete link to the website then click on Add once again.
On the Security Warning windows, click on Continue.
Users can now close the Java Control Panel and lunch the site again. In a case where a security warning pops up, make sure to click on Run.
3] Clear Java's temporary files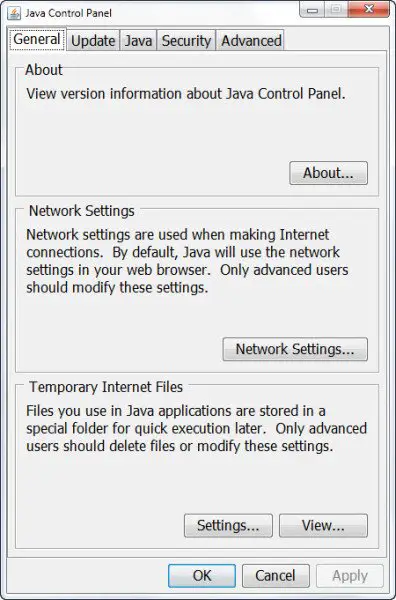 Users can clear Java's temporary files by opening Java Control Panel and then follow steps 1, 2, 3 from the above solution.
From the General tab, click on Settings. Then click on Delete Files. Tick all the boxes and tap OK.
After doing this and you still continue to come across the same issue, the final thing to do is to check the application requirements. There might be older applications that need to use an older version of Java. If this is the case, you have to uninstall the Java version you have and install the recommended version.
4] Use another browser
When you click any link, the app using JavaFX should be downloaded and then run on your desktop like any other standalone Java application. Windows 10 comes with Microsoft Edge but you can also download and install Firefox, Chrome, or any other.
It is always a good idea for users to have more than one browser available. The browsers may do similar things but there are Internet services that are supported only by a particular browser.
If you have applied the above methods, Please Let us get your feedback to know which one worked for you by commenting below.