You might not know but there is someone who knows about each and every torrent you download using your internet connection. A website is actually spying on all your torrents download and knows everything about your torrenting routines. "I Know What You Download" is an intrusive website that claims to see everything you or your friends have downloaded.
I Know What You Download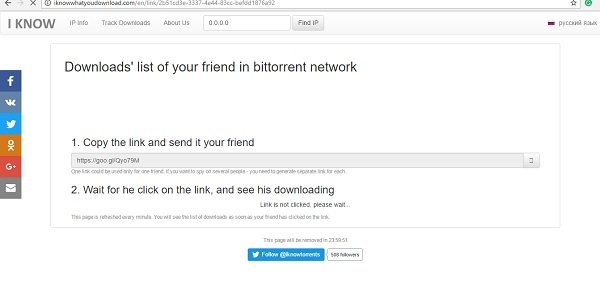 The I Know What You Download website collects the information from all across the web to find what all you or your friends have been downloading along with the details like the file size, date and time of download. Furthermore, the website also makes this information available to anyone who knows your IP address. So, if you want to know which movies or TV shows your friends were watching last night, you just need their IP addresses.
The website tracks the IP address of the users and find the Torrents downloaded via that particular internet connection. The fact is that every torrent when downloaded is attached to a certain IP address and this website simply tracks it to the list of the torrents downloaded – however, the tool never guarantees that they always show accurate data.
So, to spy on your friend's Torrents all you need is the IP address and this website helps you get it secretly. Yes, there is a feature included here which lets you know your friend's IP address on the sly.
Click on Track Downloads from the main menu and add any link in the given box, and click on Transform.
You just need to add any masked link and the tool will transform it into a spy link, which when clicked by your friend will give you IP address and the entire list of his torrents downloaded along with the date and time of download. But, you can spy on your friend, only if he/she is using a static IP address and using BitTorrent downloads.
What happens is when users go to BitTorrent websites and seed or leech the content their computers get connected with each other via the network. The entire downloads are linked with the IP addresses and the website, 'I Know What You Download' let users check each other's torrents via IP address.
Such tools are normally used by the TV, music and film companies that need to keep a watch on their torrent links being downloaded. It also helps Police keep a check on cybercriminals.
Overall, this website is a useful tool for police and media companies whose links are torrented on various websites. While it comes with detailed data, the website also makes clear that some of the data might not be accurate because one IP address is usually assigned to a range of people.