Microsoft Edge continuously blocks web trackers based on the select Tracking prevention setting. Over a period of time, the list might become very big. If you want to delete all blocked trackers in Microsoft Edge, then this article will help you do that. There is an in-built option in the browser that allows you to clear the Blocked tracker's list.
Microsoft Edge has a user-friendly option that allows users to enable and configure various Tracking prevention measures. You can easily set up the tracking and privacy settings in the Edge browser so that it starts blocking different web trackers while visiting websites.
How to clear Blocked Trackers list in Microsoft Edge
To delete all blocked trackers in Microsoft Edge, follow these steps-
Open the Microsoft Edge browser on your computer.
Click the three-dotted icon.
Select Settings.
Go to Privacy & services.
Click on the Blocked trackers button.
Click the Clear data button.
Click the Clear button.
Open the Microsoft Edge browser on your computer.
Click on the three-dotted icon that is visible on the top-right corner of the browser window and select Settings from the list.
Then, go to the Privacy and services tab from Profiles.
Here you will find an option called Blocked trackers in the Tracking prevention panel. You need to click on this button.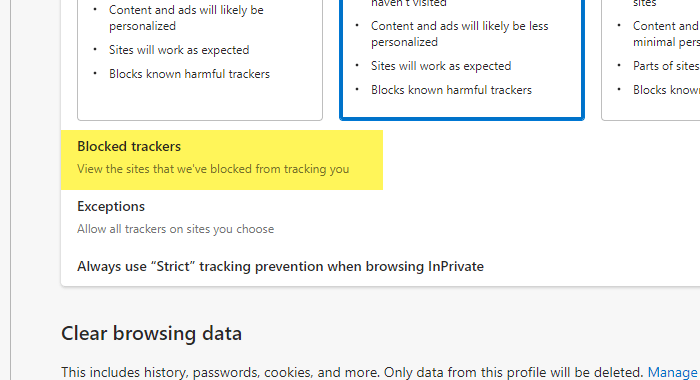 You will see all the trackers blocked by the browser's tracking prevention system. You will also find the number of times a specific tracker has been blocked.
All you need to do is to click on the Clear data button.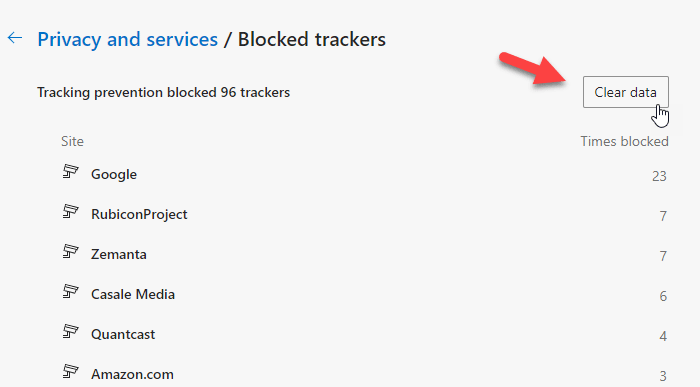 Now, you will see a confirmation window where you can see a button called Clear. Click on that button to delete all the blocked trackers at once.
Unfortunately, there is no way to delete trackers blocked by a specific website or a particular tracker.
That's all!
Read next: Trace offers excellent Tracking protection for Chrome and Firefox.