Copy and paste are very useful commands in a computer that is highly used to transfer information from one place to another. But it has been seen that usually users not always get what they copy in a web browser. Usually, it loses the actual format and doesn't look like the original form. It can be relevant to the heading, images, and even to the charts on the web page.
Seeing this problem, Microsoft has added a new feature on the Edge called Smart copy. This feature retains the original format intact while copying and pasting content from a website. Read this post to know how to use the Smart Copy feature to copy and paste the content in Microsoft Edge Chromium.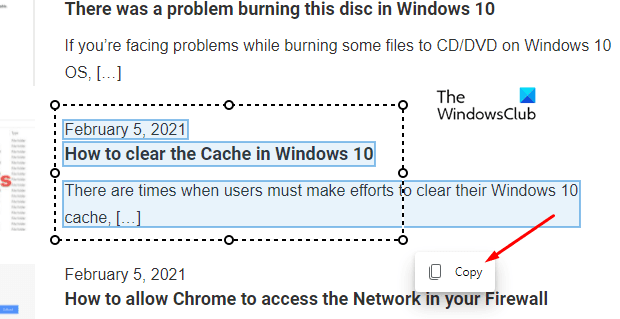 Smart Copy in Microsoft Edge
To use Smart Copy in the Microsoft Edge Chromium, follow the below suggestions:
Open the Chromium-based Microsoft Edge browser first.
Then go to the website from where you need to copy content.
Now do a right-click on an empty area and select the Smart copy option from the context menu.
Move or drag the "precision select cursor" to select the content you want to copy on the web page.
Click on the Copy button.
Go to some other app and paste the copied content.
Let us now see the above procedure in details:
Open Microsoft Edge and then go to a web page from where you need to copy the content. Then right-click on the empty area of the web page and select Smart copy from the menu list. You will see that your mouse pointer gets changed to a precision select cursor (plus sign). As an alternative, you can also press the Ctrl+Shift+X keyboard shortcut to use the Smart copy feature.
Note: If it is needed to discontinue using the feature, simply click anywhere on the web page.
Now drag & adjust the "precision select cursor" to select the content you want to copy on the page and then click on the Copy button popping up.
At this time, you can clearly see a Copied notification appear there that shows the selected field has been copied to the Windows Clipboard.
Now you can paste the copied content into other applications such as a text editor. You will see that your content will not lose its original format.
The feature is currently available in the Edge Canary builds and will be rolled out to the Edge Stable versions shortly.