PowerToys has recently come up with a new module for Windows 10. This new application is Color Picker that will allow the users to get the actual color that is below the cursor. In this post, we will provide a description of how you can use the Color Picker module in Windows PowerToys.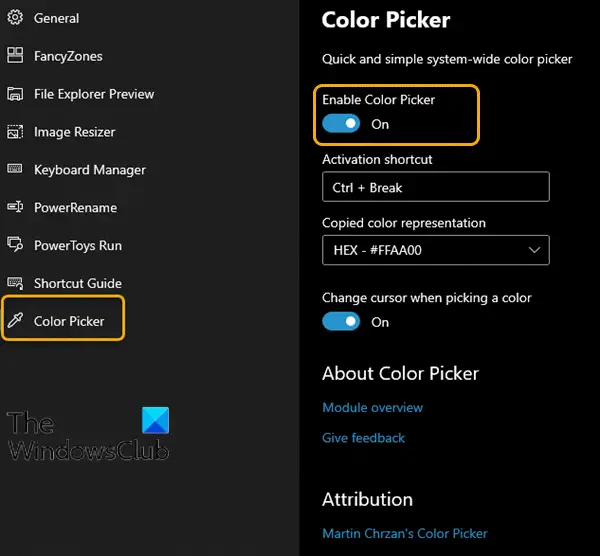 The Color Picker module will come with a ton of useful features.
Color picker appears when activation shortcut pressed (configurable in the settings).
Color picker follows the mouse cursor and shows the actual color that is below the cursor.
Scroll up will cause Zoom Window to open for a better color picking precision.
Left mouse click will copy that color into a clipboard in a predefined format (setting).
Changes cursor when picking a color (can be turned off).
Color picker is multimonitor/multi DPI aware. It respects monitors' boundaries and stays always in the view (predefined safe zones in the top, bottom, left, right sides of a monitor).
It will be accessible with a hotkey and will have its own Settings page in the main UI as shown in the image below.
How to use Color Picker module in Windows PowerToys
The Color Picker option is really reliable for users who want accurate color composition. This feature basically selects the color of the screen pixel where the cursor is. Once you activate the Color Picker, where ever your cursor moves it shows the exact hex code of that color.
To use Color Picker module in Windows PowerToys, do the following:
Assuming, PowerToys app is running, in the PowerToys setting window, you need to switch to Color Picker. On the right side, you need to make sure that the feature is enabled.
The cursor changes itself when the Color Picker is activated.
You can bring it up by pressing Win+Shift+C.
To leave Color Picker press Esc key.
Few quick mouse actions of Color Picker in Windows PowerToys are:
Moving the cursor – Gives you the exact pixel color (it follows the cursor and shows the color behind the cursor).
Scroll up – Once you have selected a pixel color, scroll up will give you better precision of the color.
Left-click – This copies the color into a predefined format (look in the settings for more info).
You can easily on and off the Color Picker using the hotkey. The color can be saved into the clipboard and loaded from the clipboard easily.