Discord is one of the hottest topics in the gaming world. You will hear your friends talking about different gaming servers, services, and features. It has Soundboards, that you can use to change the voice. We have already created a list of the best Soundboards for Discord and in this article, we are going to talk about one of them, Clownfish. In this post, we are going to use Clownfish on Discord.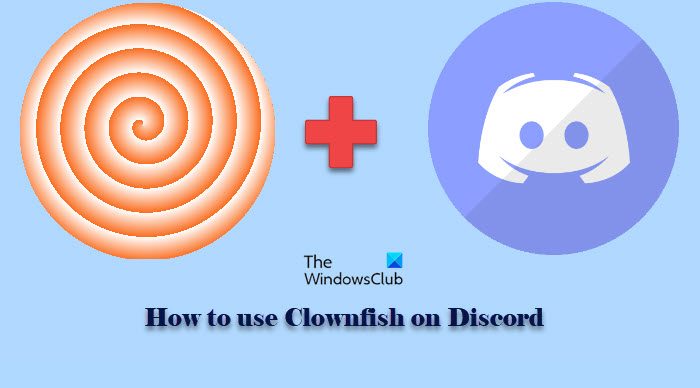 What is Clownfish Voice Changer?
Clownfish Voice Changer is a program that can be used to modulate one's voice. Unlike many other Soundboards, it is installed at a system level. Therefore, many applications such as Skype, Discord, Hangout, etc, basically any app that uses Microphone.
There are a dozen of Voice effects such as Alien, Clone, Atari, Robot, etc. So, you can always modulate your voice and not make your voice monotonous.
Does Clownfish work on Discord?
Clownfish is a third-party application that is mostly used on Discord. Even though it's not completely integrated with Discord by default, Clownfish can be easily added to the application if you want to change the voice. The process of adding Clownfish to Discord is quite simple and you have to just abide by the steps that we have mentioned to do the same.
How to use Clownfish on Discord
We have divided the whole process to use Clownfish on Discord into two simple steps. They are.
Get Clownfish Voice Changer on your computer
Use Clownfish
Let us talk about them in detail.
1] Get Clownfish Voice Changer on your computer
Let us start by downloading and installing Clownfish on your computer. You can download the app from clownfish-translator.com. Make sure that you are downloading the right version for your system. There are files for both 64-bit and 32-bit OS, so, download the one for you.
After downloading the required file, you need to install it on your system. Just click on the .EXE file and you will be prompted to allow the app to run. Click Next, make sure to tick all the options, and then follow the on-screen instructions to install the application.
2] Use Clownfish
To use Clownfish and Discord, first, open both applications. You will see a desktop shortcut of Clownfish, you need to just double-click on it and the application will be launched. The Clownfish app will not pop up, instead, you will see its icon in the taskbar. Right-click on it and select Set Voice Changer. 
Then the app will pop up, from where you can select any voice of your choice. You can change the Pitch the way you want. Now, go and open Discord, and your voice will be modulated.
Why is Clownfish not working on Discord?
Clownfish usually works perfectly on Discord, but sometimes, because of some issue, it can stop working on the VoIP. It can be because of the outdated Clownfish and/or Discord app, or the microphone not integrated with Clownfish. Whatever the case is, everything has a solution.
Update Clownfish and Discord
If Clownfish is not working on Discord, you should first check if both, Clownfish and Discord, are up-to-date. If they are not, update them and see if the issue is resolved.
Setup Microphone for Clownfish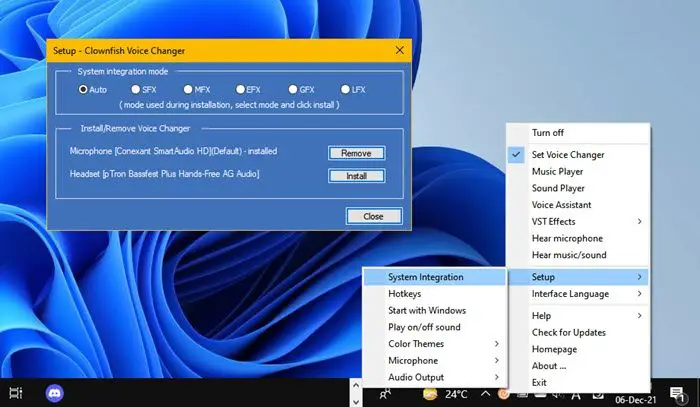 If the issue persists, install a microphone in Clownfish. You can do that with the following steps.
Right-click on the Clownfish icon from the Taskbar.
Select Setup > System Integration.
Now, you will see all your Microphones there, if you are seeing Install written next to your Microphone, click on it. Whereas, if it's Remove then this is not the issue that you are dealing with, move to the next solution.
Update Microphone Drivers
The issue can occur if your Microphone's driver is outdated. You can go to your OEM's website and download the updated version of the driver from their website. Install it on your system, restart your computer and check if the issue persists.
Also Read: Discord Screen Share Audio not working on Windows 11/10 
Make sure that Clownfish is installed in the default folder
The Clownfish app must be installed in the default folder of your system. According to some users, installing the application at a different location can trigger an error. So, the best option for you is to reinstall the application in the default folder.
To uninstall it, you can follow the steps mentioned below.
Open Settings by Win + I.
Go to Apps > Apps & Features.
Look for Clownfish.
For Windows 11: Click on the three vertical dots and click Uninstall. For Windows 10: Click on the app, and select Uninstall.
Now, you can reinstall the application at the default location, i.e; in the default folder and hopefully, your issue will be resolved.
That's it!
Read Next: Discord Screen Share Audio not working on Windows.