LibreOffice, while not on the exact same level as Microsoft Office, is still quite powerful for a free and open-source product. One of the features many users can take advantage of is the ability to create a template. This is an easy thing to do, therefore, we will discuss it in just a short moment for all you needy LibreOffice users.
Use a Template to create Document in LibreOffice
For those who aren't aware, a Template, where this word processing tool is concerned, is a model document that is designed to create other documents. For example, you can create a template for your business that contains the logo on all the pages. Any document created from this template, then, will have the logo on all pages.
The interesting thing about Templates is the fact that anything you can do in a regular document, these same things are supported in a template. Furthermore, it is understood that all documents in LibreOffice are based on templates.
If you do not specify a template when firing up a new document, then the new document will be based on the default template.
1] How to create a document from a template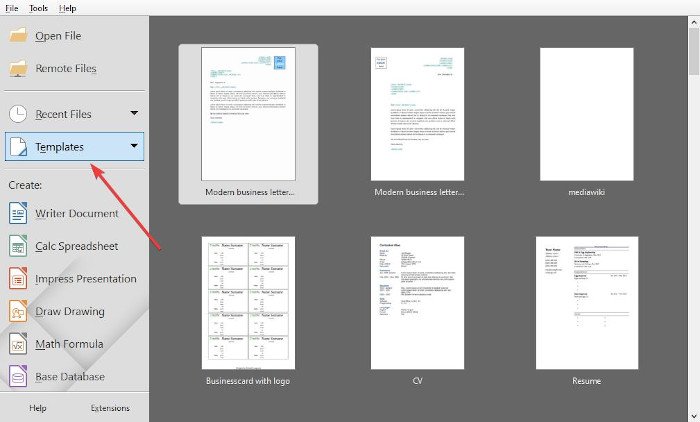 Creating a document from a temple is another simple task, so let's discuss how this is done in the easiest way.
From the menu bar, you will want to choose File > New > Templates, then wait for the template dialog box to open. Now, at the top of the dialog, you should see a list box with a category of templates to choose from.
From the next step, the user must select the required template and hit the OK button. Alternatively, one could just double-click on the template to activate it.
Read: How to create a fillable PDF form in LibreOffice.
2] Create a document from a template via the start center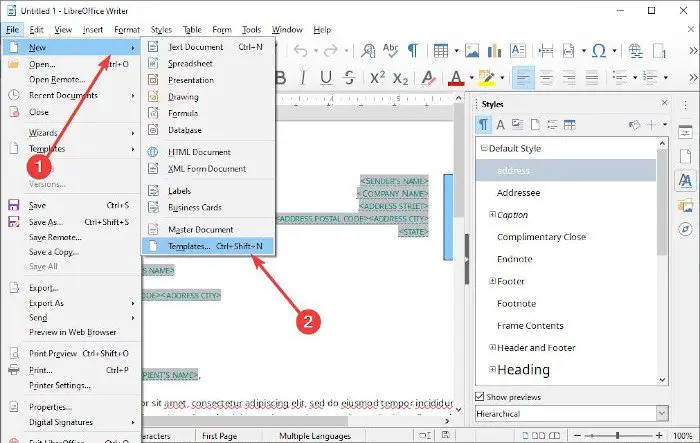 Many might not have known this, but it is possible to create a document from a template via the Start Center. In order to get the job done, click on the Template section on the left to reveal the dropdown menu. Select the preferred tool and right away it should load all the templates available.
Choose the template, click on it, and that should be enough to complete the task.
Now you know how to create documents from a template. Go forth and become a master at using LibreOffice. Your friends will be excited.