Microsoft knows that millions of gamers use their Xbox console to capture videos and photos. Such content is usually stored on internal storage, and it can become a problem since storage is not unlimited. To get around this, Microsoft made it possible for gamers to upload videos and photos to OneDrive directly from the Xbox itself.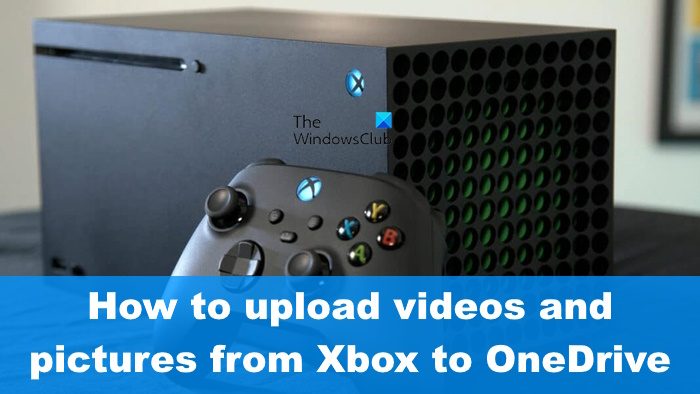 The entire experience is an integrated one, and from our experience with it, we can say for certain that it works. The task is quite easy due to the fact that the Xbox offers full OneDrive support to help with sharing videos and screenshots with ease.
Now, to move forward with uploading content to OneDrive, you will need the services of the Xbox Game Capture app. Luckily, this app came preinstalled on the console, so there is nothing to download.
How to upload videos and pictures to OneDrive
Uploading videos and pictures to Microsoft OneDrive is a simple affair where Xbox is concerned. Just follow the steps laid out below in this article:
Press the power button to boot
Navigate to the Guide
Select My games & apps
Go to Captures
Highlight content for upload
Upload highlighted content
1] Press the power button to boot
If you haven't already, then we suggest booting into the Xbox. We suspect you already know how to do this so go ahead and get it done.
2] Navigate to the Guide
Once the console is up and running, you should be looking at the home screen, but that's not where we want to be.
Press the Xbox button on the controller right away.
The guide should now be visible if everything is working properly.
3] Select My games & apps
Next, you will want to make your way over to the See all section via My games & apps, so let us explain how to do this.
From the guide, please choose My Games & apps.
After that, you should then select See all.
All games and apps that are installed on your Xbox will now be listed.
4] Go to Captures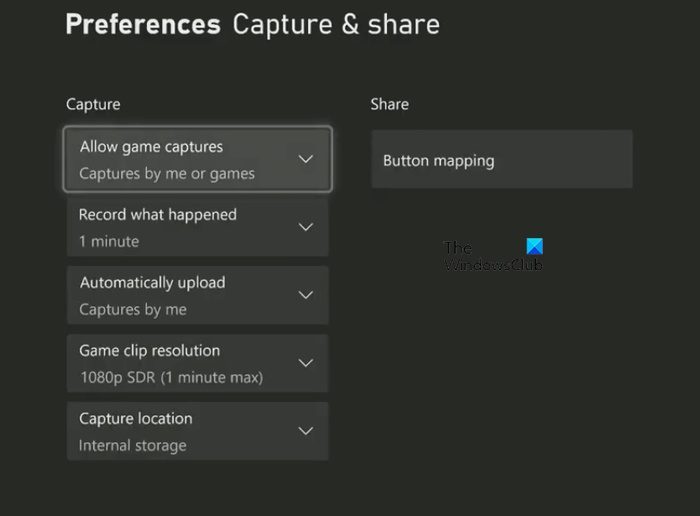 Look for the submenu that is titled Apps.
Select it, then go ahead and choose Captures.
5] Highlight content for upload
When it comes down to highlighting content, please click on Manage from the main menu of the Capture app.
Waste no time by highlighting preferred videos and screenshots needed for uploading to OneDrive.
6] Upload highlighted content
Finally, you must select Upload to OneDrive via the displayed options.
Complete the task, then, by hitting the Upload button.
Wait patiently for all files to be sent over to OneDrive as it may take a while, depending on the size of the files and the speed of your internet connection.
We should note that game captures uploaded to OneDrive specifically will appear in two different folders. For example, screenshots go into a separate folder from videos, so things will always be easy to manage.
Videos will go into a folder titled Xbox Game DVR via the Videos section of OneDrive, while screenshots will find themselves in the Xbox Screenshots folder from within the Pictures section.
READ: Fix Xbox Game Bar Record button greyed out
What is the Xbox Game Capture app?
The Xbox Game Capture app is the default app on the Xbox Series X/S for the purpose of capturing gameplay and pictures with ease. The app is streamlined to work very well with the new and previous Microsoft video game consoles, and so far, users have faced limited problems.
Why won't my Xbox clips upload to OneDrive?
There are many reasons why your clips and pictures fail to upload to OneDrive from an Xbox whenever you want them to. But instead of doing deep into the root cause, the most important thing is to reboot the console in order to have the problem fixed.