This post will show you how to block or unblock someone on Discord. Discord is a VoIP and instant messaging social platform that allows users to communicate with voice calls, video calls, text messaging, media, and files in private chats or via servers. You can block users on Discord and prevent them from sending messages or being contacted by them in any way. However, sometimes you may need to unblock them. Keep reading this post to learn how you can do both.
How to Block Someone on Discord?

Go to the profile of the person you want to block.
Click on the profile picture
Select the 3-dot menu at the top right
From the available options, select Block
You can also block a user from the chat by right-clicking on their username and selecting Block.
How to unblock someone on Discord on PC or Web version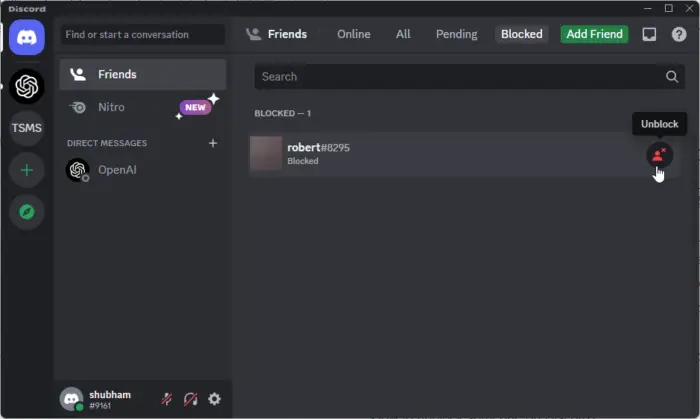 Follow these steps to unblock a user on Discord:
Open the Discord app
Click on the Friends tab on the left side of the screen.
Now, navigate to the Blocked tab.
Click on the Unblock Icon beside the person you want to unblock.
How to unblock someone on Discord on Android or iOS: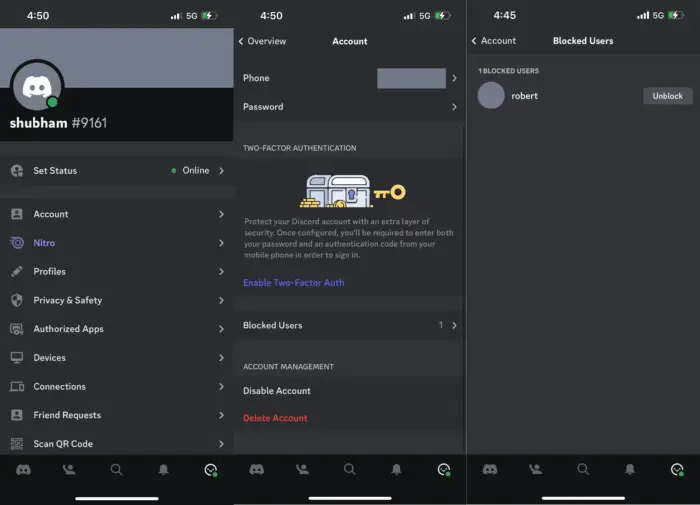 Open the Discord app
Tap on your profile icon in the bottom right corner.
Here, navigate to Account > Blocked Users.
Select Unblock beside the user you want to unblock.
I hope this helps.
Read: Discord Friend Request failed or not working
How do I see my blocked list on Discord?
To view your blocked list on Discord mobile app, launch the app and navigate to Account > Blocked Users. To do the same on the PC and Web version, open the Discord app or website and navigate to Friends > Blocked.
What happens if you block someone on Discord?
Blocking a user on Discord means that they won't be able to contact you in any way. Once you block a user, the common servers will hide the messages sent by them. Also, they'll be removed from your friend's list, and you can unblock them on Discord anytime you want.