There could be times when you might want to send confidential messages, such as a password, to someone on Facebook. In such situations, you can send disappearing messages on Facebook Messenger. If you want to do that, follow this step-by-step guide to send a self-destructive message on Facebook Messenger on Android and iOS.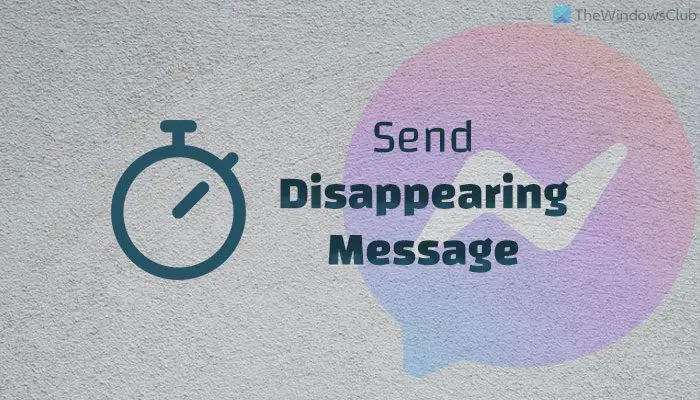 Let's assume that you want to send a password, internet banking username, or some other private information that you do not want to store anywhere. At such a moment, you have only one option if you want to send it to someone online – a self-destructive message.
What's disappearing messages on Messenger?
As the name denotes, the disappearing messages feature on Facebook Messenger is sending self-destructive messages that get disappeared once the predefined filter matches. For example, Facebook Messenger's self-destructive messages get deleted after the predefined time – 5 seconds, 10 seconds, 1 hour, etc. This particular feature is available with Secret Conversation, which Facebook introduced a long time back.
You cannot use this option on the Web version since it is available only on the Facebook Messenger app for Android and iOS. Therefore, if you want to send self-destructive messages on Facebook Messenger from your mobile, you can follow this guide.
Note: We have shown the steps on an Android mobile. However, you can do the same on iPhone as well. The steps are the same, but there will be some differences in the user interface.
How to send disappearing messages on Facebook
To send disappearing messages on Facebook, follow these steps:
Open the Messenger app on your mobile.
Compose a new message.
Toggle the Secret Conversation button.
Choose a contact you want to send the self-destructive message to.
Tap on the clock icon.
Select a time and tap the OK button.
Type the message and send it.
To learn more about these steps, continue reading.
At first, you need to open the Messenger app on your mobile and tap on the compose button, which helps you write a new message. Once the next screen appears, toggle the Secret Conversation button visible in the top right corner.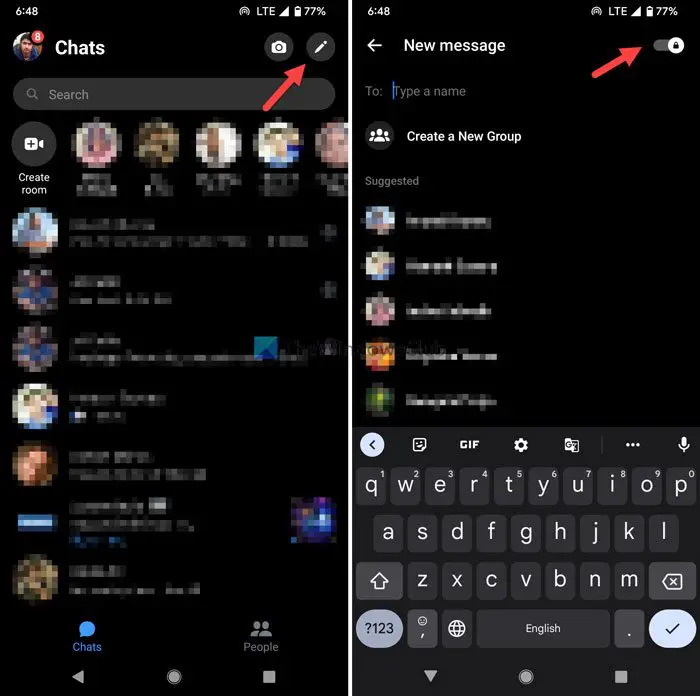 After that, choose a contact or friend from the list you want to send the self-destructive message to. Then, tap on the clock icon visible at the bottom and select a time.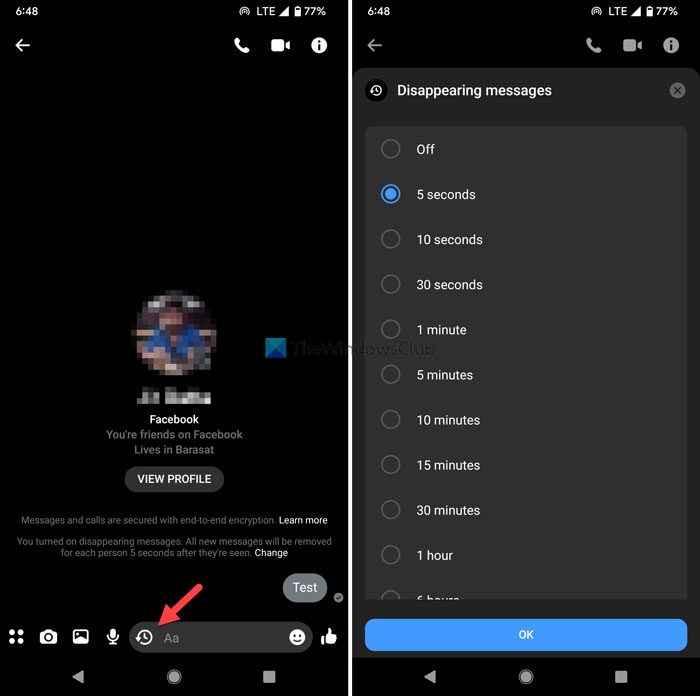 Whatever time you will choose, Messenger will take that to delete the message once the recipient sees it. Once done, tap on the OK button.
Following that, you can type your message as you do on the regular Messenger screen and send it to your friends.
For your information, you can send self-destructive or disappearing text, image, or voice messages. However, if the recipient doesn't see your message, it will stay there on Messenger.
That's all! Hope this guide helped you send a disappearing message on Facebook Messenger.
Can you retrieve a disappearing message?
Once disappeared, you or the other person can't retrieve a deleted message on Messenger. But, there are ways to keep or save a disappearing message before it vanishes. For example, one can forward or copy and save the content, use a screen recorder app, take a screenshot of the disappearing messages, etc. Facebook will notify you in the chat if someone takes a screenshot or uses screen recording, but that won't be much help if the content is captured.
Read: How to record Audio in Facebook Messenger on the desktop