In the hundreds of text messages, we send we always want some text to stand out. Something that is very urgent must be notified for the receiver to respond quickly. In this guide, we will show you how you can send Urgent or Important Messages on Microsoft Teams.
The great and unique features that Microsoft implemented on Teams made it a top contender for video conferencing platforms for managing teams remotely. Microsoft is improving the Teams and striving to give the best experience for the users to have a great collaborative time on it. The text messaging feature on Teams is also an important feature that should not be taken casually like other platforms. The urgent messaging feature is what makes it the best. Let's see how we can use it to send an urgent message on Microsoft Teams.
How to send Urgent or Important Message in Microsoft Teams
Microsoft Teams provide two options to notify the receiver of its urgency. Teams let you send Urgent or Important messages. When you send an Urgent message, a bell icon in red color is added on the top of the message and the receiver is notified every 2 minutes for the next 20 minutes.  And if you send an Important message, an exclamation mark icon in red color is added on the top of the message.
To send an urgent or important message on Teams:
Select the person you want to send the message to.
Click on the exclamation mark icon.
Select the nature of the message – Standard, Urgent, or Important.
Type the message and press Enter.
Let's see the process in detail.
Open Microsoft Teams and select the user you want to send the message to. Then, click on the exclamation mark icon below the text field of Microrost teams. You will see three options-Standard, Important and Urgent. Select Urgent or Important.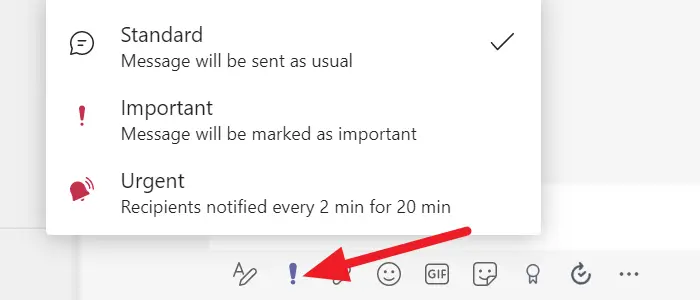 After selecting the type of message, type the message you want to send and press Enter.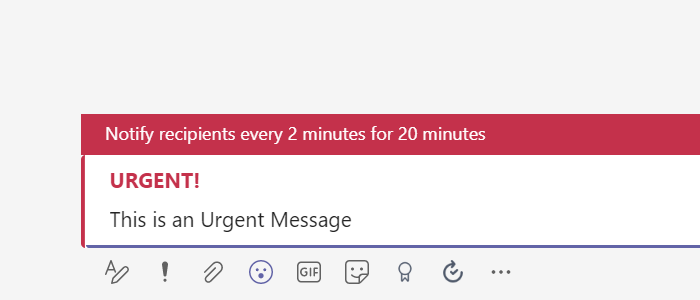 The message will reach the person with a bell icon added on top of it and frequent notifications.
This is how you can send urgent or important messages on Microsoft Teams and make the recipient respond as soon as possible.
Read: How to reduce Background Noise in Microsoft Teams.
Do Microsoft teams have instant messaging?
Yes, Microsoft Teams have an instant messaging feature, You can use it directly to chat with a particular person or a group at the same time, even while you are in meetings. You can also mark your messages as urgent or important based on your need for the other person to respond.
You can also tag people in chats and use apps to make the chat more interactive and lively. Documents, pictures, or files can be shared easily without any hassle. The other important thing is that you can use it on any device like PC, mobile or web app.
Can I send a broadcast message on Teams?
Microsoft Teams currently don't have a broadcast message feature available. You have to use third-party applications to send broadcast messages. You can create groups with particular members and send them messages that you would broadcast otherwise.
Read:  Microsoft Teams group chat software Features & FAQ.