If you are the type of person who purchases a lot of games from Epic Games, then your hard drive is likely reaching its limit. Or maybe the drive is going bad, and as such, you feel the need to move games to a different drive.
With the method we're about to discuss, you won't need to redownload your games again since that is time-consuming and will burn through your data. The folks at Epic had not thought about this, which is why they've not integrated this feature directly into the settings, but to a lesser degree, it is there in the launcher.
How to move Epic Games to another drive or location?
To move installed Epic Games Store games to a different location, directory or drive, follow these steps. Many might believe this is a difficult task to get done, but such is not the case. You will soon come to realize how simple it is.
Navigate to the installation folder in Explorer
Copy the game folder
Go to preferred Local Disk
Paste copied folder
Open the Epic Games Launcher
Move over to the Library tab
Synchronize games with Epic Games Launcher
1] Navigate to the installation folder in Explorer
OK, so the first thing you must do here is to go to the folder where the games are installed. In most cases, this folder is located at C:\Program Files\Epic Games.
2] Copy the game folder
Next, you'll be required to copy the relevant game folders. This is easy, to be honest. Simply click on the folder, then right-click and select the Copy icon. Alternatively, you can click on the folder and then press CTRL + C to copy.
3] Go to preferred Local Disk
You now need to go to the other hard drive on your system. Once found, open that location.
4] Paste copied folder
After you've entered the new hard drive or folder location, you will want to create a new folder, and from there, paste game folders within it. You can do this by pressing the right-click button, then select Paste, or use CTRL + V to paste.
5] Open the Epic Games Launcher
Wait a moment for the copied files to complete the process of pasting to the new hard drive. After that, fire up the Epic Games Launcher right away.
5] Move over to the Library tab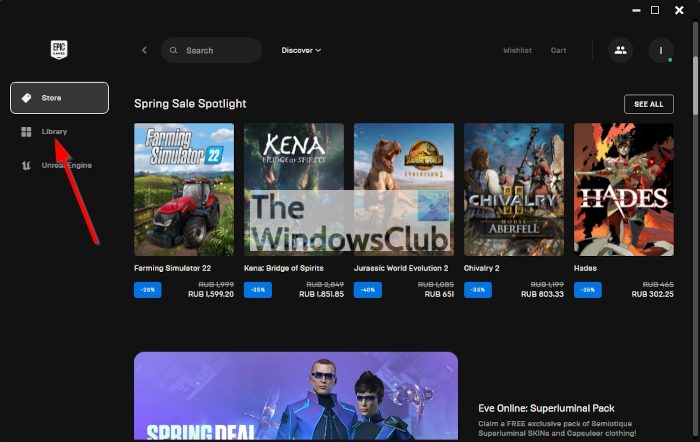 After opening the Epic Games Launcher, you must now go to the Library tab. From within it, you will see a list of your games. Now, these are just the titles associated with your account. They won't be active as of yet until the launcher is linked to the new hard drive.
6] Synchronize games with Epic Games Launcher
Finally, you must click on the game card, and from there, Epic Games will promptly ask for your preferred installation location. Choose where you want to store the game, then top it off by hitting the Install button.
Wait for Epic Games to initiate, and that's it, your games are now available in a new location.
Read: Best Free Games on Epic Games Store
Is the Epic Games Store free to use?
Yes, the Epic Games Store is free to use. A few available games are free to download as well, but others require payment upfront. Epic Games Store also provides a free game every week. You can also join a free-to-play game community.
Can you change your location on Epic Games?
Yes, if you want to change the country on your Epic account, then it can be done easily, excluding certain regions. Epic Games lets you update or change your country once every 6 months. However, updating the country can affect certain services and features. You should also disable VPN (if enabled) before changing country.