PC users can press the Windows 11/0 Menu key on their keyboard to launch the context menu that you'd normally access by right-clicking the mouse. However, some keyboards don't have a Menu key. In this post, we will show you how to map the Menu Key or in fact remap any keyboard shortcut on the keyboard in Windows 11/10.
How to remap Keyboard Shortcuts in Windows 11/10 using PowerToys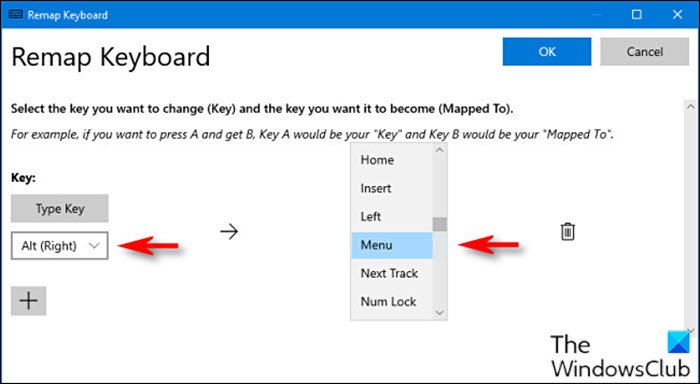 Map Menu Key on keyboard
To map the Menu key to any key on the keyboard, do the following:
First, you need to download and install the PowerToys utility if you haven't already.
After the installation, launch the utility.
Select Keyboard Manager in the left pane.
Next, click Remap a key on the right pane.
In the Remap Keyboard window that appears, click the plus sign (+) under Key heading to add a new key mapping.
If you have a full-size keyboard, the Alt key to the right of the space bar usually works well. It's in the same general location as the Menu key on other keyboards, and you have another Alt key on the left. You can choose any other key if you want.
Now, on the left, you have to define the key you're remapping.
Click Type Key, and from the drop-down, select Alt (Right).
In the Mapped To section on the right, click the drop-down menu, and then select Menu.
Click OK.
PowerToys will probably warn you that the key you're remapping will be unassigned.
Click Continue Anyway on the prompt.
Your new Menu key should work immediately. To test it, click anywhere on the desktop, and then press your new Menu key. You should see a small context menu appear.
Depending on the application or feature you use the Menu key for, you'll notice the options in the menu change.
If at any time you want to discard the mapping, navigate to the Remap Keyboard window in PowerToys and, then click the Trash icon beside the mapping to remove it.
And that's how to map Menu Key on the keyboard in Windows 11/10!
Related reads: