With a few easy settings, users can turn one or more websites into desktop apps. This can be of great help to people who visit some websites regularly since turning them into native Windows apps can just help them cut back on time they'd otherwise have spent opening it in the browser. This article will look at how you can create desktop apps from websites on Windows 11/10 using Microsoft Edge and Google Chrome.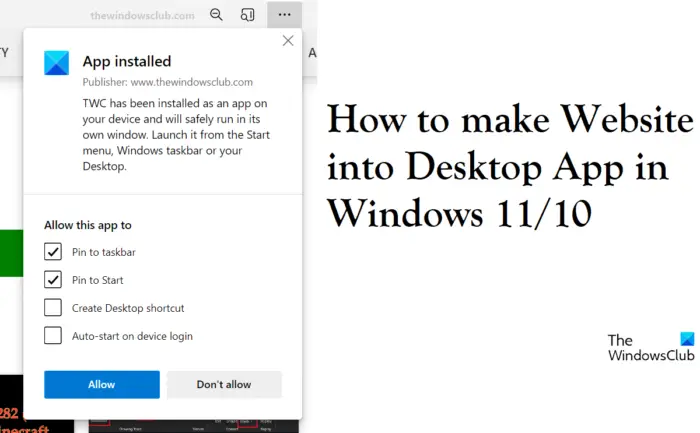 How to Turn Websites into Desktop Apps in Windows 11/10
It is pertinent that you have an understanding of how these website desktop apps work before you create any for yourself. A website, when opened as an app, looks and can be used the same way as you'd work on it on a browser. The only difference is that none of the toolbar elements, such as the bookmarks section, are present in the app. Let us now look at the two ways you can do so.
Using Microsoft Edge
Using Google Chrome
Turn websites into desktop apps using Microsoft Edge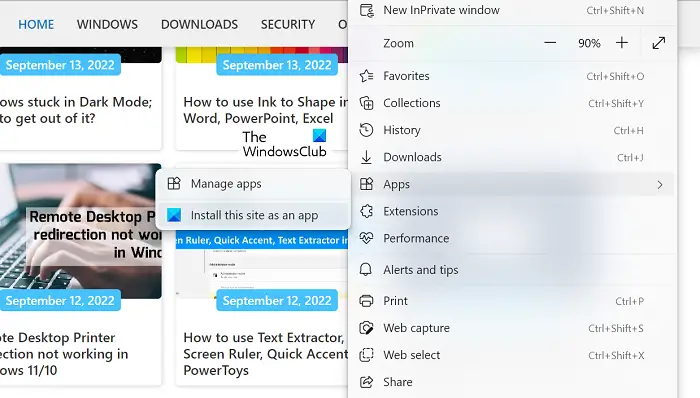 The quickest way to make desktop apps for websites is via Microsoft Edge. Not only is it speedy, but Edge is pre-installed as well. Once an icon is created using Edge, an addition is made to the Taskbar. The good thing with this is that Edge will still power the app so any auto-fill prompts are filled using already saved data.
Open Microsoft Edge on your computer and enter the address of the website you want to convert into an app
Click on the triple-dotted icon at the top-right corner of the screen
Hover over the 'apps' option and further select the 'Install this site as an app.' option
This will open a prompt where you can fill in the name of this app, or click on 'Edit' to set a customized icon for it
Creating an app will instantly open it on Edge. Closing it would remove it from the Taskbar, but you can amend that by pinning the app icon on the Taskbar.
Turn websites into desktop apps using Chrome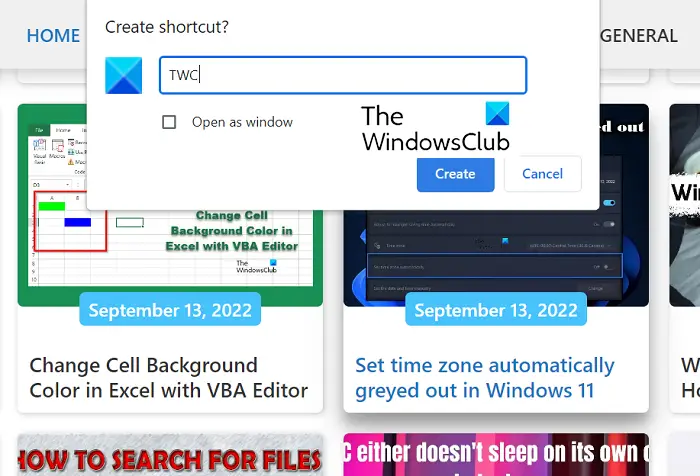 Alternatively, you can also use the popular web browser Chrome to create a website's desktop app. The process for that is as simplistic as it is for Edge. All you have to do is follow the steps below:
Open Google Chrome and enter the website's address
Click on the triple-dotted icon (or use the 'Alt + F' key combination)
Go to 'More Tools' > 'Create Shortcut'
This will open up a 'Create Shortcut?' prompt. Here, you can name this app and select to open it as a window before going through with it by clicking on the Create option
Chrome will create an app and add it to the Start menu, from where you can then launch it.
How do I use a website as an Android app?
Having too many apps on your phone can put too much strain on your battery and also hamper your phone's performance. In a bid to cut back on used apps people use the official websites on a browser and not their host apps, but that's not always preferred. One can also turn a website into a small android app there are a lot of apps that provide this service. Two of the most popular apps that can help you seamlessly transition a website into an android app are Hermit and Native Alpha.
How do I put an icon on my desktop using Mozilla Firefox?
Although Firefox isn't used as extensively by Windows users as their primary browser, you can use it to put an icon on your desktop as well. The process with Firefox is as easy as it is with Edge and Chrome. All you have to do is open the webpage that you want to create a shortcut of > click on the Site Identity button to the left of the web address > click on it and drag it to your desktop. Doing so would create a shortcut for this webpage on your Desktop screen.
We hope that this post was of help to you.