Minecraft allows gamers to create a Weakness Potion that can be splashed onto the enemies to reduce their strength. The Weakness Potion is one of the many weapons that one should have in their arsenal if they decide to go into a battle. In this post, we will see how to make the Weakness Potion Recipe in Minecraft, what are its ingredients, and how you can use it. So, without further ado, let's go to the guide.
What is the Weakness Potion Recipe in Minecraft?
A Potion of Weakness is a tool in Minecraft that when comes into contact with a player reduces their health by 0.5 of what it previously was. It is mostly used during an attack to incur damage to the opponent. It is worth noting that the Potion of Weakness only reduces the damage caused by melee attacks, while weapons still inflict their usual damage. Typically, the potion lasts for 90 seconds, but you can prolong its effect by adding Redstone Dust to it.
Make Weakness Potion Recipe in Minecraft
It is not difficult to make a Weakness Potion, we just need to assemble a few ingredients and then cook.
Ingredients to make Potion of Weakness in Minecraft
In order to make a Potion of Weakness or Weakness Potion in Minecraft, you would require the following ingredients.
Brewing Stand: A Brewing Stand is similar to a crafting table as it can be used to mix multiple items to obtain a particular tool. We will use it to make a Weakness Potion. You can find the Brewing Stand block in villages at villager job's workstations. However, one can craft it using 3 cobblestone blocks and a blaze rod.
Water Bottle: Water bottle is an essential ingredient in the Weakness Potion recipe and should not be overlooked. In order to make a glass water bottle, you need to have 3 glass blocks that can be created by heating sand in a furnace. Once you have 3 glass blocks, go to the middle row and place two of the blocks on each side of the row. Next up, you need to put the third glass block in the center of the bottom row of the crafting area.
Blaze Powder: Blaze Powder is an utmost ingredient of the potion. In order to create it, put blaze rods on the crafting table and it will give the required powder. Blaze rods can be obtained by going to the Nether dimensions and killing blazes.
Fermented Spider Eye: Last but not least, we need a fermented spider eye to make a Weakness Potion. In order to make it, you need spider eye, pretty evident from the name itself, one brown mushroom, you can get it from the nether, swamps, and other biomes, and sugar. Once you have them, pull out a Crafting table, put all the ingredients on it, and then it will give what's required, a fermented spider eye.
So, these were all the ingredients required to make a Potion of Weakness in Minecraft.
Make Potion of Weakness in Minecraft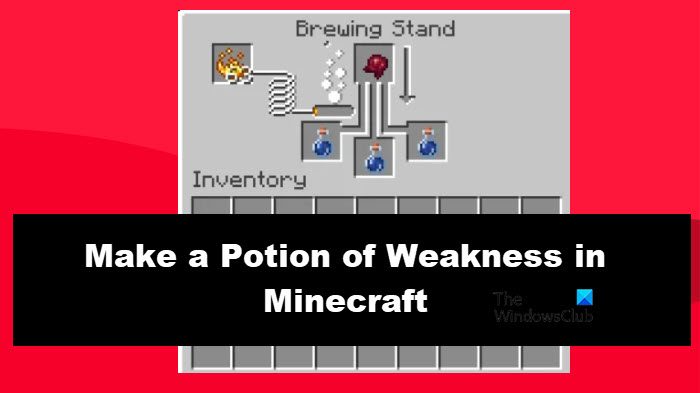 Now that we possess all the essential components within our reach, let us brew the Weakness Potion to have an upper hand on our competitors. To do the same, follow the steps prescribed below.
Open the brewing stand by right-clicking on it.
You need to put the blaze powder in the far left cell of the stand. This will instigate the powder and it will start burning.
You then need to put the glass bottle in one of the three compartments located at the bottom. Do keep in mind that every single bottle is filled with water as that's exactly what we need to brew the potion.
Lastly, take the Fermented Spider eye and put it in the empty cell at the top of the brewing stand.
Just wait for a few seconds and your potion will be ready.
Since the Potion of Weakness is not useful on its own, we need to create Splash Potion of Weakness. 

It is throwable and can be used against an enemy. To do the same, follow the steps mentioned below.
Kill creepers and collect gunpowders.
Place the gunpowder in the brewing stand and if needed add Blaze Powder, it will act like fuel.
Make sure to put the gunpowder in the top key ingredient cell in your brewing stand.
The Potion of Weakness will go into the bottom cells and after a few seconds, they will turn into throwable bottles that can be used in combat.
That's it!
Read: How to make and use a Spyglass in Minecraft?
How do you make a weakness Potion in Minecraft?
Weakness Potion in Minecraft can be easily made using a few ingredients – Brewing Stand, Fermented Spider Eye, Blaze Powder, and Water Bottle. You need to follow the instructions mentioned earlier to brew a potion. Since the potion itself is not that useful, we have included a guide to convert them into throwable bottles.
Read: Pixel format not accelerated in Minecraft
What do you need for Potion of Weakness?
You need a Brewing Stand, Fermented Spider Eye, Blaze Powder, Water Bottles, and of course a crafting table to create a Potion of Weakness. Some of them can be easily obtained whereas, some aren't. That's why, we have mentioned how to craft and get the ingredients earlier in this post.