Until now, there wasn't a way to view the log of the devices connected to our Twitter account. Fortunately, the service now offers a dedicated Dashboard for this purpose. So, if you would like to log out of Twitter on all devices at once here's how to go about.
Log out of Twitter on all devices at once
The new Dashboard enables a quick check of your account. So, if there were some devices that you used earlier to login to your Twitter account but don't remember them now, it's the right occasion to log out from them. Doing so ensures that no one except you have access to the account. To log out Twitter on all devices, you must-
Login your Twitter account
Access Settings and Privacy
Check Data and Permissions
Logout all sessions
Please note that the process remains the same whether you are using the Twitter web app or the Twitter mobile app (iPhone/iPad). There can be only slight variation in the User Interface.
1] Login your Twitter account
If you are using Twitter only on your PC, go to Twitter.com and sign-in. If your previous login is still active, there's no need to enter the login details.
2] Access Settings and Privacy section
On your Twitter home screen, locate the 'More' option (visible as 3 horizontal dots) at the bottom of the menu bar. When found, click it.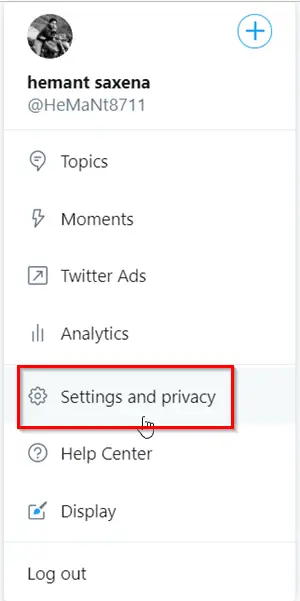 From the new window that opens, choose 'Settings and Privacy'.
3] Check Data and Permissions
Click the 'Account' side arrow to expand its menu and scroll down to 'Data and Permissions' section.
From the list of options displayed there, select 'Apps and Sessions'.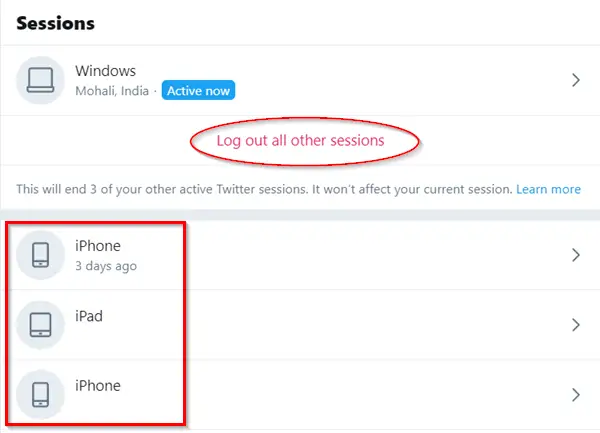 Now, scroll down to the 'Sessions' heading. There you will see a list of every device that you used earlier to access to your account.
4] Logout all sessions
Select 'Log Out All Other Sessions' to log all devices out.
When prompted with a confirmation message, select or tap the 'Log Out' button.
Hereafter, any other device that would like to access your Twitter account will have to enter the login details for that account.