A Virtual Phone Number is like a standard telephone number except that it's not tied to a physical device or SIM or eSIM. If you are running a business or do not want to buy another device or SIM, you can opt-in for a virtual phone number.  That said, Virtual Phone numbers are completely legal and are offered by many services for a price. It is already in use by many businesses that offer toll-free numbers. These services also offer virtual numbers to individual persons. This post will share services that will help you generate a virtual phone number.
When Do You Need a Virtual Business Phone Number?
If you need to connect internationally or need to use local numbers for your business worldwide, then getting a virtual business phone number makes sense.
Are Virtual Phone Numbers legal?
Yes, they are completely legal and have been there for a long time. Now that the software has enhanced and connectivity has improved, it has become easier.
What factors to consider while choosing a Virtual Phone Number?
It depends on your business and personal requirement. If you need more than just a virtual phone number, look at the additional service and integration offered as part of the package. However, if you only need a virtual number, you can always choose any basic services.
How to get a Virtual Phone Number?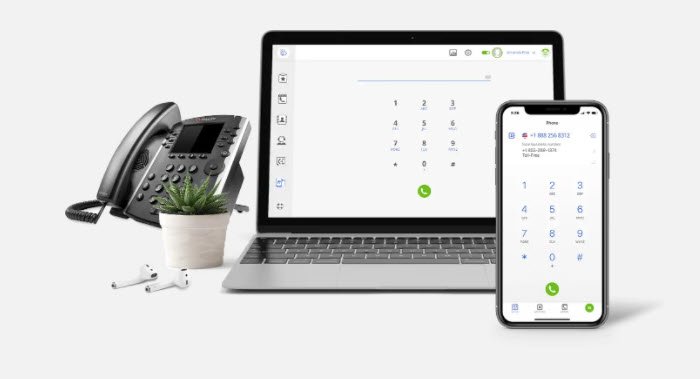 There are tons of services out there that offer this, and while they differ in terms of features and pricing, they all offer a virtual phone number that a business or an individual can use.
1] Phone.com
It offers a VoIP service that comes with a web-based administration panel from where you can manage everything. Right from contacts to messages, voicemail, fax, conferences, greetings, and more.
Features:
Instant Setup and notification for incoming calls
Allows routing
Personalized greetings, voice mails, and music
Support for SMS
Setup unique caller id
Offers both US and Global numbers
2] Freshworks.com
Built for business, Frescaller allows your team to manage calls, easily manage numbers, get custom reporting, and offers custom reporting on various call status.
Features:
Monitor conversation and keep track of service levels
Support Call queues
Integrates with well know CRMS such as Hubspot, Salesforce, Shopify, Zoho, and more.
Purchase local numbers
Call barging, recording, virtual holdback, escalations, and more.
3] Mightycall.com
If you are looking for a service that doesn't cost you on per user basis, then this is just for you. Not only can you get a new virtual phone number but also port any existing virtual number here. The service offers all basic features, including texts, call recording, voice to text, mini-CRM, desktop or softphone support, and so on.
Features:
Easy to set up and use
Offers toll-free and local numbers
No per-user charge
Offers app to use it on the phone like other services
It can be used in collaboration with others.
4] Nextvia.com
If you want to look beyond regular virtual number and need to integrate with services and more. The service offers various services and tools that integrate with the business and revolves around the customer; then, this is what you need.
Features:
Talk via call, text, video, email, and instant messaging.
Listen to call recordings and voicemails and initiate call-backs.
Integrates with Microsoft Teams, Salesforce, Hubspot, Zendesk, and more.
Automated surveys, emails, messages, and more.
Pricing depends on the package you select and the tools you choose to integrate.
5] Grasshopper.com
Dedicated to being used as a virtual phone number only, the service offers to add a business line and a virtual phone line to any smartphone. It offers Toll-free numbers, vanity numbers, local and option to port numbers.
Features:
Automated greeting, caller-id support,
It can be used from a phone or desktop.
Supports VoIP and WiFi Calling
Voicemail box, Email with audio transcription, and virtual fax number
Supports call transfer, extensions, instant response, and more.
You can then also use the virtual number to register on Signal, WhatsApp, Telegram, etc.
Let us know if you have any recommendations.
Now read: How to get a Virtual Credit Card?