How often do social media accounts with unique usernames fascinate you? Social media profiles are meant to grab eyeballs. While if you have a personal account, posting your pics makes a good impression. But some out-of-the-box usernames are pretty intriguing. It makes your profile stand apart and puts an impressive appearance. You would find it challenging to come up with creativity in usernames. If you are thinking of how to create a unique username for social media, then we are here to help you out!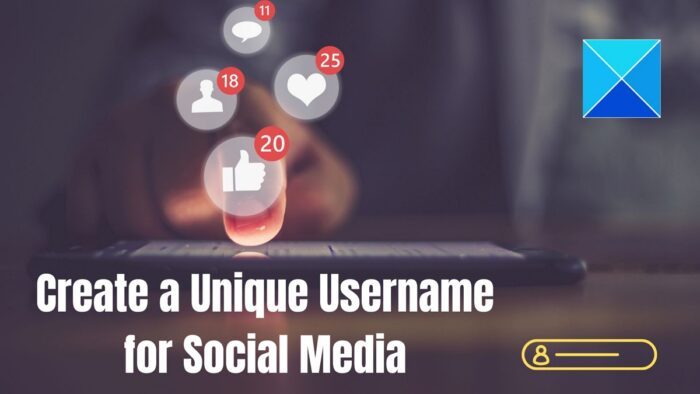 How to create a Unique Username for Social Media?
There are many ways to create unique usernames for your social media account. However, we will discuss the methods to help you make the most extraordinary usernames.
Below mentioned is a list of the same:
Use wordplay to create a unique username
Create a username using the things you love
Add some remarkable numbers to create a unique username
Describe your interest in creating a unique username
Use descriptive adjectives
Let's look at how you can utilize them to create one username!
1] Use Wordplay to Create a Unique Username
Writing simple words in a complex way might seem absurd to some. However, it's a beautiful way to add creativity to your creation and make it stand out from the crowd. You can adopt a similar approach with your usernames too.
Wordplay brings a lot of creativity to your username. So, when you think of creating a catchy and attractive username, then it's a must-go option. You can use some related words or alliteration-type words to add to your username.
For instance, "marvelousmaria" and "cherrytheberry" are some usernames that use wordplay. You can use your first name, last name, or nickname.
2] Create a Username using the Things you Love
Some of you would be pretty obsessive about the things you love. There are possibilities that it becomes noticeable from your behavior. If you are an avenger fan or similar, you would discuss them all time, use the character stuff, and so on. You can creatively use such things to make a great username.
For instance, you can keep it "theawesomehulk" if you are a Hulk fan. You can also use the names of your favorite artists. Like, "thelastBTS" if you are a BTS fan.
3] Add Some Remarkable Numbers to Create a Unique Username
Some of the dates hold an important place in your knife. It may be your birthdate, birth year, or similar. Besides, it can also be your lucky number or the birthdate of someone special in your life. When you think of using anonymous usernames, you will find plenty of them. You can keep one similar suiting your likes. However, it's pretty common and does not make it stand out. Often you would think of one, but the username would be unavailable.
Under such circumstances, you can add some remarkable numbers.
One such way is to keep the name as theyoungbiker01 instead of "theyoungbiker." Here, 01 represents the last digits of the birth year. Similarly, you can choose a name and add significant numbers to it. You do not tend to forget usernames when you add numbers that hold particular importance.
Another example is keeping "thesuspiciousgirl002" instead of "thesuspiciousgirl."
4] Describe your Interest in Creating a Unique Username
You would have some interests, food habits, or something you are fond of. These are unique for you, so you can add them to your username. Such usernames, including your name and interests, make it stand out from the crowd.
If you are someone who loves spaghetti, then you can keep it as "jennylovesspaghetti." On the other hand, you can keep a name like "samlikeselena" if you are a die-hard of Selena Gomez. Similarly, you can substitute it with the personalities or interests and add your name.
5] Use Descriptive Adjectives
Adjectives perfectly describe everything. Similarly, people around you would use several adjectives for you too. Moreover, as you know yourself well, you can add descriptive adjectives that you like. Some of them include "themysterioussoul," "missergophile," "sarcasticsam," "thecouchpotato," "lazycreep," and similar. You can also add adjectives to your names or some anonymous-type names which don't reveal your identity.
If you find creating a catchy and attractive username challenging, you can use a name generator online tool. You can head over to it, enter your preferences, and it will craft one as per what suits you.
Conclusion
We have guided you well when you discover how to create a unique username for social media. You can indulge the magic of wordplay or use remarkable numbers like your birth date. At the same time, you would have some likes, some interests and would be fond of artists too. You can use them with your name and form a beautiful username.
You can add descriptive adjectives that work best to enhance creativity and attractiveness. If you find it tough to create a creative username, you can use the Nordpass username generator.
What's a unique username?
A unique username is not used by anyone else. This can be accomplished by combining letters, numbers, and special characters. Sometimes, a unique username may be ten characters or more in length.
How do you make a good social media username?
There are so many online tools that help you make a good social media username. In this article, we have shared some tips and tricks that you can use to generate a unique username for your social media account. Whether you want to use it for Instagram, Facebook, Twitter, or email account, you can use them without any problem.