If you have a business and you need to print hundreds of labels of names, addresses, etc., of your customers, you can use Google Sheets to get the job done. Here are two different extensions or add-ons that you can install on Google Sheets to create and print Labels.
How to create and print Labels using Google Sheets
To create a and print labels using Google Sheets, use any one of these addons:
Avery Label Merge
Foxy Labels
To know more about these add-ons or methods, continue reading.
1] Using Avery Label Merge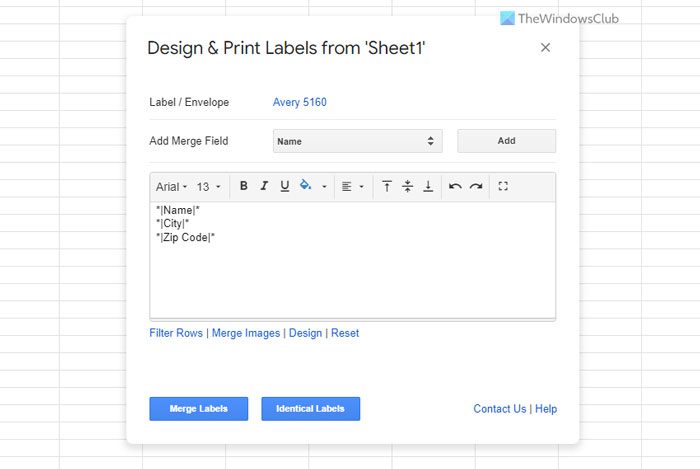 Avery Label Merge is one of the best extensions for this purpose. No matter whether you want to create labels for one or multiple customers, you can make use of this extension to get the job done. The best thing is that it fetches all the details automatically. In other words, there is no need to specify the column you want to choose. However, if you want to do so, you can add or remove a specific column per your requirements.
Avery Label Merge is free for 30 labels per merge only. However, the paid version doesn't have any such restrictions. If there is no problem with such a restriction, you can go ahead and follow the steps to utilize this extension.
Use Avery Label Merge to create and print labels:
Open the spreadsheet containing all information.
Click on the Extensions in the top menu bar.
Select the Avery Label Merge option.
Click on the Start menu and let it fetch all details.
Add or remove fields if needed.
Click on the Merge Labels button.
Click on the Yes button to confirm the merge.
Click on the Google Document option.
Click the File > Print menu.
Choose the printer and click on the Print button.
Once done, your labels will be printed automatically.
2] Using Foxy Labels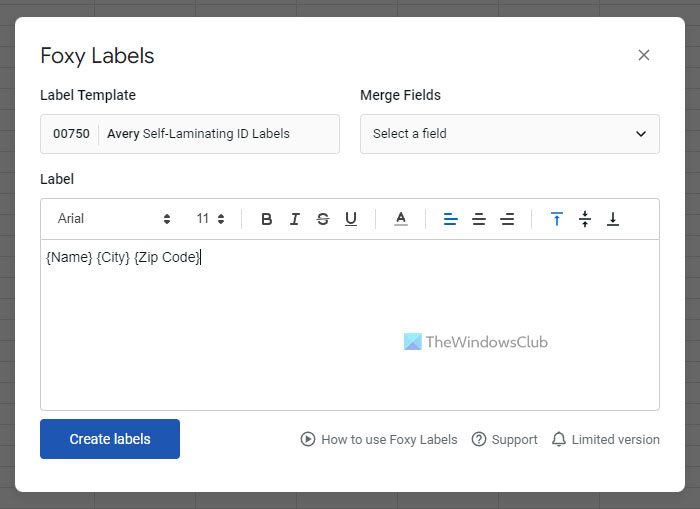 The workflow or Foxy Labels and Avery Label Merge are more or less the same. Whether you have one or multiple fields in your spreadsheet, you can use this extension to turn them into labels. It is meaningless to mention that you can print them all at once with the help of Google Docs. Alternatively, you can download the file and send it to someone for proofreading or printing.
To use the Foxy Labels to create and print labels, follow these steps:
Click on the Extension > Foxy Labels > Create labels.
Expand the Merge Fields list and choose all the fields you need.
Click on the Create labels option.
Click the Open option.
Go go File > Print.
Choose the printer and click on the Print button.
Your labels will be printed instantly.
Read: How to Create and Print Address Labels in Windows
Can you use Google Sheets to make labels?
Yes, you can use Google Sheets to make labels for businesses or any other purposes. As there is no in-built option, you need to get the help of third-party extensions. For example, you can utilize Foxy Labels, Avery Label Merge, etc., extensions to get the job done.
Does Google Sheets have a label template?
No, Google Sheets doesn't have any label template by default. However, you can obtain templates from third-party resources. For example, if you install Avery Label Merge extension, you can find more or less ten templates. It is possible to use those templates to create a label sheet that you can print on demand.
That's all!