The latest Chromium-based Microsoft Edge web browser has replaced your classic legacy Edge browser. The new Edge Chromium brings you the option to clear the browsing history of your Edge Legacy browser. This feature is available in version 84.0.488.0 and later. You can either delete the entire data in one go or can select the items you want to delete.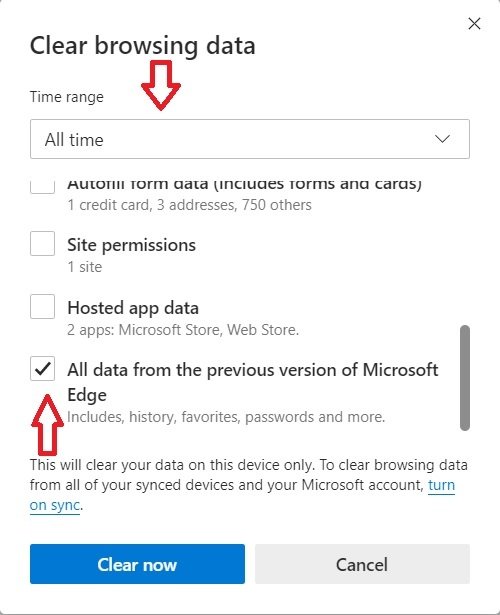 Clear browsing data of Edge Legacy using Edge Chromium
To do this, open the new Edge Chromium browser
Go to History > Clear browsing data or press Ctrl+Shift+Delete to open the dialog
Scroll down and select "All data from the previous version of Microsoft Edge".
You can select the time range which is from the Last one hour to the last 4 weeks, or you can delete the browsing data of 'All time'.
Select the items you want to clear-
Browsing history,
Download history,
Cookies,
Cached data,
Passwords,
Autofill form data,
Site permissions, and
Hosted app data.
The new Microsoft Edge (Chromium) web browser is not just available for Windows 10, but also for macOS, Android, and iOS devices. Furthermore,  the browser also supports up to 90 languages from around the world.
Since its Chromium-based version, it looks pretty similar to Google Chrome at first instance but the company has added some really cool and interesting features to make it stand out. Microsoft claims a better browsing experience and compatibility with extensions.
The new Chromium version of Microsoft Edge comes with some great new features and customization options. You can choose a new theme, design, and layout to give it your own look. Also, the new browser comes with features like 4K streaming, Microsoft Search in Bing integration, AAD support, inking in PDF, Dolby audio, and Internet Explorer mode.
Read next: Edge (Chromium) Browser Tips and Tricks.