Today I'll blog about this new program I found called Hornil StylePix. I often search for new applications and freeware on the Internet and this time, I accidentally stumbled upon this great graphics editing program.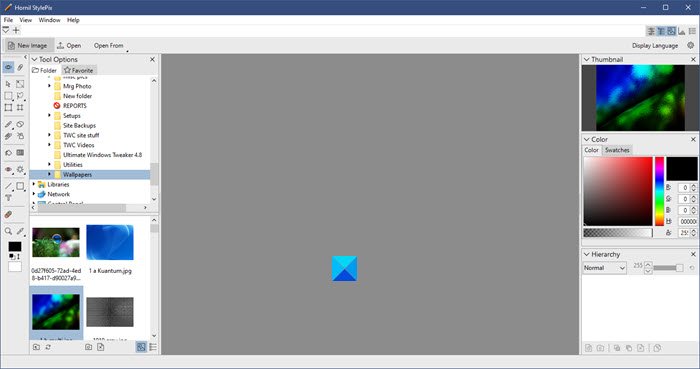 StylePix is an photo & image editor that has all the features of raster graphics editor and adhered to lightweight design and effective UI. In addition, it has a built-in image viewer and batch processor.
StylePix is a free portable Image Editing software
StlyePix can draw pictures (Brush, Spray, Clone brush, fill, gradation fill), Resize photos, Rotate photos, Color Correction, Type text on the photo, Synthesis photos, Cut, copy and paste photos, Sharpen/Blur photos, Remove red-eye, Remove dust, etc.
The best part about this application is it's absolutely free and it uses a very low footprint. The whole application is just 2MB. StylePix supports up to 53 languages. It has both an install version and a portable version. According to the developer, the main features are:
Portable Support
Built-in browser and slide show
Convenient working environment (Working with multiple files with Multiple document interface)
Multi-layer & grouping support
Various selection tools like Auto region and color range tools, Rectangular and circular region tools, Free and polygonal lasso tools.
Practical filters with live preview
Various Drawing tools
Advanced Text tool
Transform and alignment
Enhance and restore tools
Multilevel Undo and Redo
Batch Processing
Hornil StylePix has a pretty easy-to-understand and intuitive user interface. Even if you are new to image editing, you will be able to learn to use it quickly. Even if you have no experience, you can easily learn how to edit images and retouch your photos. Since it is easy on resources, it is great for use on Notebooks, Netbooks, virtual machines, etc.
It supports JPG, PNG, TIF, TGA, BMP, GIF and TSP image formats. Moreover, there is an extensive online Help manual that can be easily accessed through the Help menu within the freeware.
This freeware is comparable to Paint.NET software but does not require the installation of additional software like the .NET framework. This lightweight image editor includes a portable as well as an installer version.
You could download it from Hornil. Works on Windows 10 too. I hope you find this tool helpful.
Looking for more options? Check out our post on Free Photo Editors.