If you are a gamer, you are aware of Activision Blizzard. Its franchises like Call of Duty, World of Warcraft, Skylanders, Diablo, etc., are highly popular among gamers. Microsoft planned to acquire Activision Blizzard and announced this on 18th January 2022. Microsoft finalized the deal on 13th October 2023, and soon the franchises, including Call of Duty, World of Warcraft, Candy Crush Saga, Overwatch, Diablo, and more will be joining the Xbox.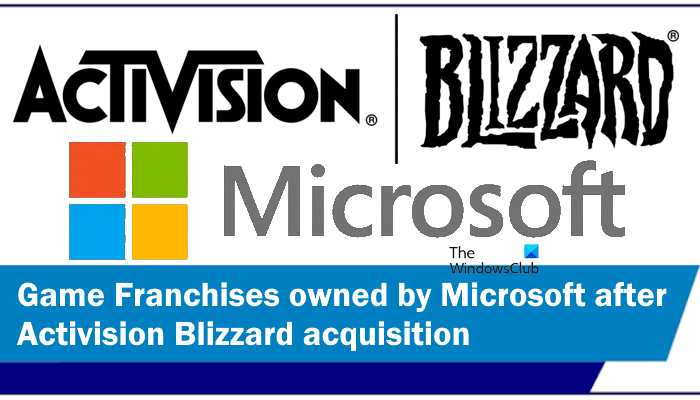 Game Franchises owned by Microsoft after Activision Blizzard acquisition
Activision is one of the largest game publishers in the world. The company was founded in 1979. The company was initially named Computer Arts Inc. Later, the CEO of Activision suggested the name Activision by combining the two names Active and Television. Bobby Kotick purchased Activision in 1990 and became the CEO of the company in 1991. He has been the CEO of Activision since then. Activision showed massive growth and success in the 2000s with some of the games, including Call of Duty, Guitar Hero, etc.
In 2008, Activision announced the merger of Activision and Blizzard. From then, the company was named Activision Blizzard Inc. After the merger, Activision Blizzard Inc. became one of the largest video game companies.
Microsoft planned to acquire Activision Blizzard in 2022 and finalized the deal for around $69 billion in October 2023.
Satya Nadella, chairman and CEO of Microsoft said:
Gaming is the most dynamic and exciting category in entertainment across all platforms today and will play a key role in the development of metaverse platforms. We're investing deeply in world-class content, community and the cloud to usher in a new era of gaming that puts players and creators first and makes gaming safe, inclusive and accessible to all.
In a statement, Bobby Kotick, the CEO of Activision Blizzard said:
For more than 30 years our incredibly talented teams have created some of the most successful games. The combination of Activision Blizzard's world-class talent and extraordinary franchises with Microsoft's technology, distribution, access to talent, ambitious vision and shared commitment to gaming and inclusion will help ensure our continued success in an increasingly competitive industry.
Here is a list of some of the Activision Blizzard games that are now owned by Microsoft.
Call of Duty
Crash BandicootGuitar Hero
Skylanders
Spyro the Dragon
Tony Hawk
Diablo
Hearthstone
Lost Vikings
Overwatch
Starcraft
World of Warcraft
Heroes of the Storm
Candy Crush Saga
Prototype
Gun
Blur
Dark Reign
Call to Power
Soldier of Fortune
Ski Resort Tycoon
The Lost Vikings
Gabriel Knight
Heavy Gear
Heretic
Interstate '76
King's Quest
Laura Bow Mystery Series
Phantasmagoria
Space Quest
True Crime
Ultimate Soccer Manager
Zork
Activision Blizzard acquired King in 2016. Therefore, Microsoft will also own the King games including Bubble Saga, Bubble Watch Saga, Pyramid Solitaire Saga, Farm Heroes Saga, Candy Crush Soda Saga, Scrubby Dubby Saga, Paradise Bay, Candy Crush Jelly Saga, Candy Crush Friends Saga, Pet Rescue Puzzle Saga, Bubble Witch Saga, Bubble Witch 2 Saga, Diamond Digger Saga, Farm Heroes Super Saga, Rebel Riders, and more after this acquisition.
Microsoft will soon launch the Activision Blizzard games into Xbox Game Pass which has already reached a milestone of more than 25 million subscribers. On the other hand, Activision Blizzard has nearly 400 million active players in 190 countries and three billion-dollar franchises. Hence, this acquisition will help make Xbox Game Pass one of the platforms with the most diverse content in the gaming industry.
Does Microsoft own Call of Duty?
Call of Duty is among the most popular Activision Blizzard games. Because Microsoft has acquired Activision Blizzard, gamers can expect the Call of Duty to appear on Xbox Game Pass soon.
How many studios does Xbox have after Activision?
Currently, Xbox has 23 game development studios, including the studios under the Bethesda Softworks. After the acquisition of Activision Blizzard with Microsoft, Xbox will have around 30 internal game development studios, along with additional publishing and esports production capabilities.
Read next: Best Activision Blizzard games you can play on your PC.