Looking for fun freeware downloads? Need some fun on your Windows desktop while you work? Planning to play a prank on your friend? Here is something you will love. Because it's creepy, yet funny and it's free. These applications will put different insects like bugs, cockroaches, ants, butterflies, flies on your Windows desktop.
Put insects on your Windows desktop
1] Ladybug on Desktop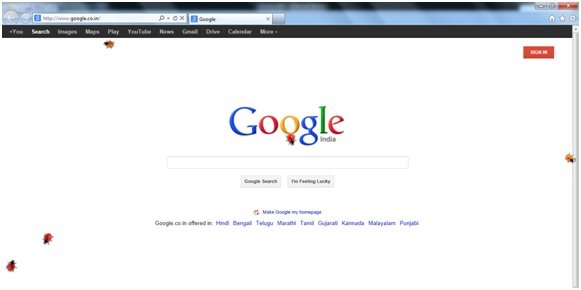 This application creates ladybugs on your desktop. Downloading this app takes just a few moments. As soon as you download and run the program, 4-5 lady-bugs start crawling on your desktop. They behave exactly like a real-life lady-bug. It becomes stand-still when you move the mouse cursor on it. And then begins crawling once again when it feels 'safe' (really?). To 'kill' the bugs, simply double-click on each of them. On the other hand, to increase their population on the screen; run the application once (or more times) again. Thus, you can have a lot of bugs on your desktop! Download this fun app here.
2] Live butterflies on your desktop
Your desktop will remind you of spring when you enable these beautiful butterflies on your PC. Simply download the app and you will have real-looking butterflies that fly around on your desktop. You can always manage the settings such as add more butterflies, startup and exit of the application. These multi-colored and life-like butterflies may be a distraction, but definitely a refreshing distraction for sure. You will feel like sitting in a garden. So, go ahead and download this free animated computer background app from here.
3] Fly on Desktop
Till now there were some 'good-looking' insects. Now, how about house flies? Sounds interesting? Here is the free animated computer background app for Windows. Just like the ladybug app, this application also launches 5-10 flies at a time when run and then the flies start crawling on your desktop. You can add more flies by running the application more than ones. To remove the fly, double-click on it. The recently updated version of this freeware has a new option. Now the fly flies away from the cursor. You can put 99 flies at the most and the app comes with an icon in a tray.
So if you want to kill time, kill these flies! You can even download the fun app from its homepage.
4] Ants on Desktop
This one will put ants on your desktop.
5] Realistic Cockroaches on Windows Desktop
When it comes to playing a prank on someone using insects, cockroaches get the highest votes. Many people freak out at the sight of a cockroach. Now, no need to use real cockroaches, when you can have virtual ones! This lightweight and simple-to-use free animated computer background app for Windows allows you to display numerous cockroaches that crawl along with your screen.
When you run the app, five cockroaches are displayed in the center of the screen. The next moment, they start crawling in random directions and have various shapes and speed levels. Every time you click on the app, 5 more insects are added. To kill the insect…no. Don't hit your monitor with a roll of newspaper. Just double-click on each of them.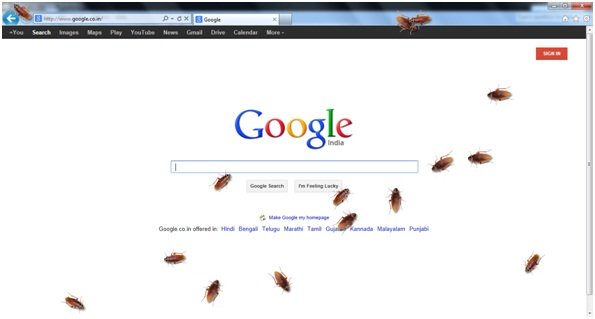 You can have different settings for this app like setting Cockroach on Desktop to stay on top of other applications and to automatically load as system startup, as well as specify the number of cockroaches to start with.
It is so life-like you that you start feeling creepy if you hate these creatures in real life! So ladies, be aware of this application, someone might just play a prank on you with this fun freeware!