Want to insert stamps into your PDF documents? A Stamp is a type of annotation that effectively conveys your intention regarding the document. These PDF Stamp Creator software let you put a stamp into your PDF documents like Confidential, Approved, Rejected, Modified, Final version, Draft, and many more. You can even add customized stamps to PDF using these software.
Free PDF Stamp Creator software
This article lists down the best 4 free software that let you add stamps to your PDFs. These are:
Adobe Acrobat Reader DC
Foxit Reader
PDF-XChange Viewer
PDFTK Builder
Let's check these out.
1] Adobe Acrobat Reader DC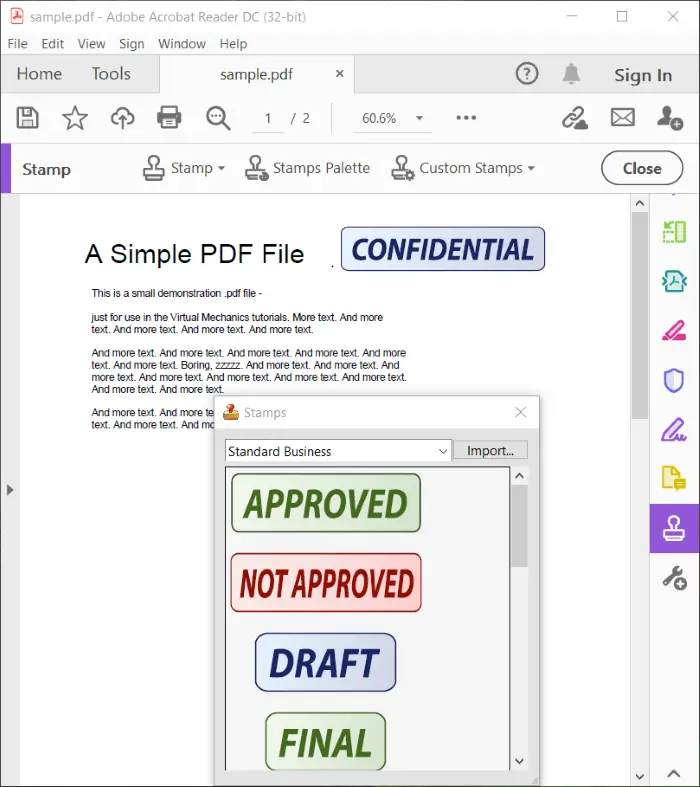 Adobe Acrobat Reader DC is a popular PDF reader that also lets you annotate PDFs. It has a lot of tools to annotate PDFs, one of which includes a PDF stamping tool. You can add some Standard, Dynamic, and Sign here stamps to your PDF file. It also gives you a feature to add a custom stamp from another PDF document.
To insert a stamp to PDF, go to its Tools tab > Stamp option and open a PDF document that you want to stamp.
Then, you can add any of the given stamps into the document with name, title, etc. It lets you customize stamp properties including color and opacity. Finally, save the edited PDF by going to File menu > Save option.
2] Foxit Reader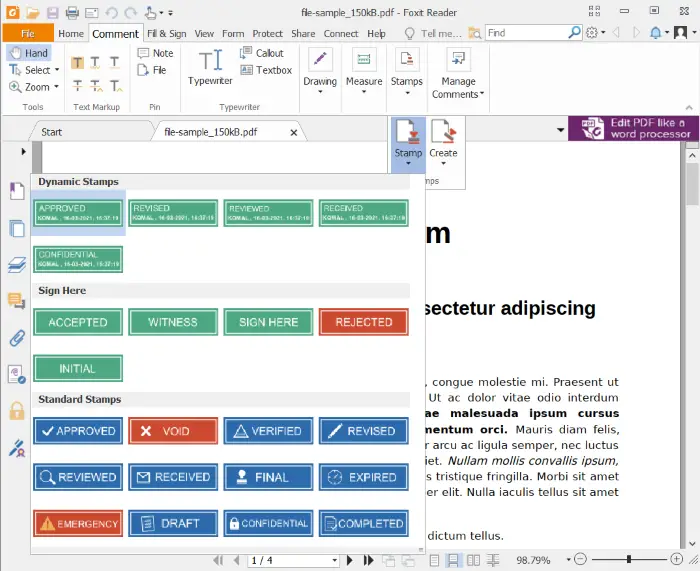 Foxit Reader is also a PDF viewer that lets you add different kinds of comments to PDF, e.g., stamps, callouts, textbox, etc. It lets you add both commonly used stamps as well as custom stamps. You can create a stamp from scratch by importing a PDF document.
The method to insert a stamp to PDF is quite simple. You first need to open the document and then go to the Comment tab. There you will get a Stamp feature; simply use the stamp you want to add to PDF and then save changes to the document.
It is quite a smooth PDF stamp creator freeware that is easy to use.
3] PDF-XChange Viewer
Another free software to add stamps to your PDF is PDF-XChange Viewer. It is a PDF viewer which has a lot of commenting and other tools. You get some stamp presets that you can use for stamping a PDF. Some of the stamps that you get in it are Draft, Experimental, Approved, Sold, and Top Secret.
You can open a PDF and go to the Tools menu where a Comment and Markup Tools sub-menu is present. In this sub-menu, you get a Stamp Tool option; select the desired stamp and then add it over the PDF at any place.
Later on, you can save stamped PDF by clicking CTRL+S hotkey or File > Save option.
4] PDFTK Builder
PDFTK Builder is a free and open-source PDF freeware that allows you to stamp a PDF file. However, unlike other software, it doesn't provide you predefined stamps. You can only add a stamp to PDF from another existing PDF file. To do so, go to Background/Stamp/Number section and select the Stamp radio button. Then, select source PDF document, choose stamp (PDF file), and press Save As button to save the output.
These are some of the better PDF stamp creator software that you can use to add stamps to PDF documents.